Looking for a way to grow your Twitter account?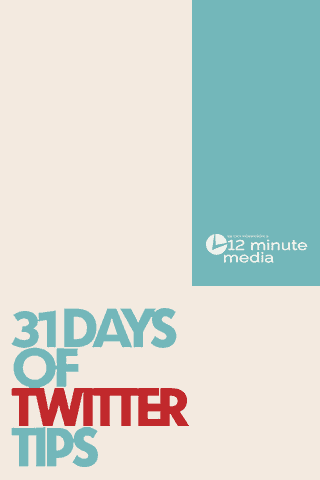 If you're looking for a way to grow your Twitter account and learn how to give back, then you'll love 31 Days Of Twitter Tips. Providing ideas for how to use just twelve minutes a day to build a Twitter following and engage and promote others, the ebook is a great tool to add to your virtual toolbox.
31 Days Of Twitter will help you:
Stand out from the Twitter crowd.
Find ways to support and promote others on Twitter.
Get conversations started and grow your business connections.
Explore 3rd party apps.
Use automation to help you maintain a Twitter presence.
Take the 31 Day Twitter Tip Challenge.
If you find yourself saying that you don't have enough time in the day to use Twitter, then take the 31 Day Twitter Challenge, using just twelve minutes a day to explore new tools, follow and tweet with others, and build a Twitter presence.
The 31 Days Of Twitter Tips ebook is filled with ideas based on Becky Robinson's own personal experience and business approach. The skills and techniques that are shared in this e-book are the same tips that the team at Weaving Influence uses to promote the work of paying clients.
If you try the book and discover that it has helped you, contact us to find out about services offered by Weaving Influence, including webinars, consulting, coaching, implementation, editing, training, speaking, and content creation.
Download This Free Ebook To Start Building A Powerful Twitter Presence For You & Your Business