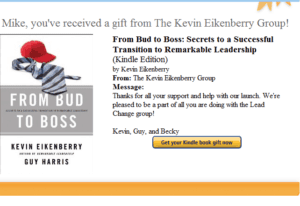 Dear Barnes and Noble Dot Com,
Over the weekend, I tried  to buy a NOOK version of From Bud to Boss. See, I have been working to promote the book. As part of our promotion, we've been purchasing e-versions of the book to give to various bloggers to review. We even sponsored some giveaways including one on our friend Dan Rockwell's blog, Leadership Freak.
To Dan's readers, we offered 6 hard copies of the book and 4 Kindle versions.
One of the winners of the Kindle version (Alicia) sent me an email and said, "I have a Nook."
Since I like to make people happy, I decided that I would give Alicia a NOOK version instead. So, I went over to bn.com to do that.
Before I go any further, I want to tell you a little bit about the process of buying a Kindle gift version of From Bud to Boss. It's amazing, really. Once I find the Kindle book on Amazon.com, with one click I can "give as a gift." Then, I can personalize the email message any way I like.
I love that!
I've been sending a lot of Kindle versions of the book to people. Around 20, I think. I will likely send more in the coming days. Want to know why? Because it's easy. One click, personalize the message, and the recipient has the book within minutes.
So even though it's easy to buy Kindle versions, I decided to buy Alicia a NOOK version. I spent several minutes on bn.com searching for how to do that. I did see that I could buy a NOOK gift card, but I didn't want to buy a NOOK gift card. See, I am promoting a specific book. I wanted to buy Alicia a specific book.
I decided to buy the book and forward her the confirmation email. When I did that, though, she couldn't open it. I had bought the book for myself, it seems. Problem is, I don't have a NOOK. (I don't have a Kindle either, for the record.) I also have a beautiful hard copy of the book, signed by the authors. So, you can see, I didn't need a NOOK copy for myself. I wanted it for a gift.
I called your customer service, bn.com.
I spoke to a person, fairly quickly. I explained my story.
I tried to be nice.
I sat on hold for a long time while he did some investigating. Your customer service agent was helpful, he was. But he told me what I had already figured out.
bn.com doesn't have a process in place for people to give specific NOOK books as gifts.
I sent Alicia the news about my failed attempts to send her a gift copy of From Bud to Boss for her NOOK. Then I went to Amazon.com and sent her a Kindle copy instead.
Here's some advice, in case you're listening: create a new process so people can give gift versions of NOOK books.
See, I plan to promote more books.
My friends Kevin Eikenberry and Guy Harris are going to publish more books. I hope they will ask me to help promote them. When we do, I hope you will have a system in place so that we can give people a choice about how we deliver their e-books.
In one way or another, I will help other folks promote their books.
My friend Marlene Chism is currently launching her book Stop Workplace Drama. And my friend Jesse Lyn Stoner is about to launch a second edition of her bestselling book Full Steam Ahead. You can bet that both of my friends will be sharing e-versions of their books as part of their promotions.
If they were to ask me today, I would tell them to stick with Kindle versions. Giving them is quick, it's easy, and they won't have to spend their Saturday afternoons waiting for the refund of  NOOK versions that can't be delivered as gifts.
Thanks for listening,
A happy Amazon customer