2-Day (Virtual) Reach More Readers Workshop 
Learn how to promote your book and grow your audience.
This virtual, interactive training is designed to give you an overview of digital book marketing strategies and tactics to help you reach the biggest possible audience.
This workshop will give you tactics to be more effective in using online channels to share your ideas, grow your influence, and connect with potential customers. We'll introduce the Reach Framework, helping you understand the basics and exploring advanced strategies to increase your reach.
We don't currently have any upcoming workshop dates on our calendar. Sign up here to be the first to know when we add new dates!
I loved having access to all the critical elements of book marketing in one place. It was very helpful in figuring out where I am "ready" and where I have gaps.
It was great to get a comprehensive overview of the book marketing process. I appreciated the open environment and the generous sharing of knowledge and perspective.
Author of "Oasis Mindsets: Leading with an Open Mindset to Maximize Potential"
Becky and the team were a wealth of knowledge and I loved the times she shared from her own experiences with clients and now with the launch of Reach. Having the support in the small group to make sure everyone got time to share their own examples and questions was the most valuable part for me as I love getting real-time feedback and applying what I learn straight away.
The workshop provided a lot of information that I can use immediately to promote my current book. I got great ideas from the instructors as well as the participants.
It was great to pick the brains of Becky's team with all their experience. And the varied group, with people ranging from published authors to just starting on their first book, provided a surprising number of insights also.
Managing Director/Founder / Gossamer Gear, Inc.
Huge volume of actionable takeaways, great connections with others on the workshop.
Managing Director/Founder / Gossamer Gear, Inc.
I felt I was gaining knowledge that it took my leaders and fellow members YEARS to acquire.
I loved connecting with the others on the call and how personable Becky is in her facilitation.
Product Manager / NARM Training Institute
Becky's presentation was comprehensive yet digestible. The combination of presentation, group discussion, and breakouts was a nice balance of learning from the experts and learning from one another.
Founder and Managing Consultant / OrgMomentum Consulting
I gained real insight around what to do to become more memorable, achieve greater name recognition for my writing, as well as professional activities - coaching and consulting.
Author of "The Flow of Organizational Culture: New Thinking and Theory for Better Understanding and Process"
Your investment gives you access to:
Pre-work activities and foundational learning in advance of the training sessions.
Two days of virtual learning and interaction.
A follow-up one-hour group session to answer any remaining questions and share your progress.
Access to Weaving Influence's signature course, The Book Marketing Action Guide (a $299 value).
Prior to your day of training, you'll prepare for our sessions by:
Writing about your brand and reflecting on the value you hope to bring others through your online presence / business.
Identifying your goals for using digital marketing tactics.
Sharing your past (best and worst) marketing activities and experiences.
Ranking topics in order of your interest to influence the amount of time we spend on various topics. (Extra 60-minute webinar if we don't get to everything!)
Sharing any big questions so we can add them to our agenda.
By the end of the two days, you'll be equipped with:
An understanding of the most important marketing activities you can do to fuel your book launch and reach more readers.
A plan for marketing your book from your website. 
A general book marketing timeline.
Information about tools to use to support your digital marketing efforts.
Insights about which areas of digital marketing you may want to invest with time, energy, and/or money moving forward.
An elevator pitch for talking about your book to your identified target audiences.
The steps needed to grow your email list.
Guidance and best practices for using social media channels.
Clarity about choices you can make in marketing your brand / business.
Information about what you can do with digital marketing and what you could hire someone to implement.
12:00-1:00
|
What do you want to be known for?
Your brand, positioning, value, goals, target audiences — including small group interaction to refine your ideas and share/articulate them with others.
1:15 – 1:45 | Website Conversation
A brief look at what's most critical for your website and online presence, looking at some examples of effective websites.
2:00 – 2:30
|
Content Marketing Intro
Overall introduction to content marketing, repurposing content, channels, and finding your center (blogs, videos, podcasts, books, articles, case studies, ebooks, interviews).
2:45 – 3:45
|
Social Media
Overall introduction to social media marketing.
4:00 – 5:00
|
LinkedIn
Deep dive on LinkedIn.
12:00-1:00
|
Email Marketing
Growing and cultivating a permission-based email list.
1:00 – 1:30
|
Media Relations
Earned media can be a powerful way to build awareness for your book. We'll talk about seeking media opportunities through articles, interviews, and podcasts and how these can contribute to your book marketing efforts.
1:45 – 2:30 | Virtual Events
Video, webinars, and other virtual events and how they can add to marketing efforts.
2:30 – 3:30
|
Network Mobilization
Network mobilization, launch teams, Amazon review campaigns, and bulk buys.
3:45 – 4:15 | General Book Marketing Timeline
We'll talk through a timeline of what to expect on your author journey and the key milestones you want to plan for as you approach launch.
4:15 – 5:00 | Commitments
Making commitments to a Digital Marketing Strategy (Optimal vs Minimal). What will you do as a result of today? How will you measure success? What are your long-term investments?
Join the most successful people and learn from the best.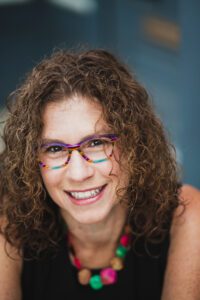 Becky Robinson is the Founder and CEO of Weaving Influence, a full-service marketing agency that specializes in digital and integrated marketing services and public relations for book authors, including business leaders, coaches, trainers, speakers, and thought leaders. Since launching more than nine years ago, under Becky's leadership, the firm has provided a wide range of services to help clients launch more than 150 books, enabling authors to build their brands, acquire more business customers, and increase book sales. In April 2022, Becky published her first book with Berrett-Koehler Publishers titled, Reach: Create the Biggest Possible Audience for Your Message, Book, or Cause. Becky holds an M.A. in Intercultural Studies from Wheaton College and received her B.A. in English/Creative Writing from Miami University.