We believe that you will make the biggest difference in the world with your message and mission when you choose to invest energy online with focused consistency over time.
Whether you are starting from scratch or you have an established online presence, it's important to begin with a strategy, including a clear understanding of who you are and the value you hope to bring (brand), what makes you unique (differentiators), your business objectives and what you want to achieve (goals), and how you choose to show up (approach).
we want to partner with you
Whether you need to develop or refine your digital marketing strategy and tactics, we are ready to support you. We'll ask questions, listen for understanding, and capture your strategy in a written document that will serve as a roadmap of your path to achieving your goals and a recommended timeline. 
our strategic guidance will enable you to answer these questions: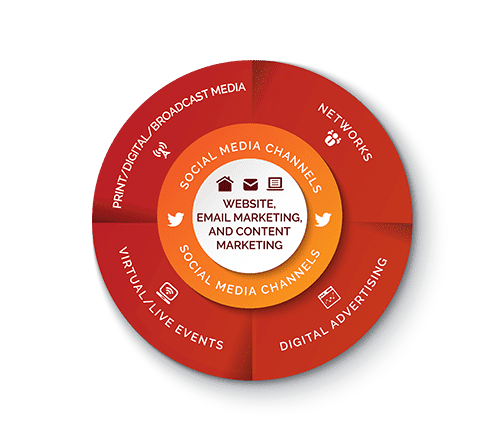 What are you willing and able to sustain over time?



 What will you hire a partner to execute?



 What is best to let go?
Components of our various
strategy packages: 
Strategic Plan: 
Strategic and tactical recommendations aligned with your goals and fitting within your allocated time and budget.
Timeline:
Recommended activities for digital marketing areas to help you focus and prioritize.
Content Planning Tool:
An organizational document for you to use in content/editorial planning, promotion, and analyzing effectiveness of tactics. Includes an automated catalog of your WordPress blog posts and a catalog of templated book promotion tweets, as applicable.
Key Marketing Areas We Cover:
Book Marketing 
Content Marketing 
Digital Advertising 
Email Marketing
Media Relations
Network Mobilization
Online Courses
Podcasts
Social Media Marketing
Virtual Events
Visual Brand Review

Website
Are you ready to make a difference?
A strategy will help you exceed your digital marketing goals.
I was wowed by Weaving Influence when I attended an event they supported for my publisher. So I took the plunge to work with them to refresh my public presence.  Both practical and deeply reflective, I was immediately engaged in a process of creating an authentic relationship with me. The powerful questions asked were so refreshing! I got even clearer about what matters to me. I came away with great ideas about how to maximize my influence by tuning in to my best self. I highly recommend this thoughtful, personal and practical approach.