Effective virtual meetings begin with smart design
When we partner with you to design and deliver a virtual event, we begin with outcomes in mind. What do you want to accomplish during your event? Who are the participants? How can we best engage the attendees in the experience? We help you select the right technology mix for your event, incorporating interactive elements including polls, chat, virtual whiteboards, and breakout sessions.
your planning, execution, and facilitation partner
More than a tech support team, we bring our expert advice about planning the details of your virtual event experience. We also offer skilled facilitation and can host or emcee your events, providing both on-camera talent and behind-the-scenes technology support.
Hire us to plan, support, and execute your event, or hire us for just-in-time help on key aspects of your event, including:
Consultation as you design your virtual event.
Marketing ideas and implementation support to communicate with event attendees.
Hosting and registration for your event on our Zoom platform.
Practice sessions for your event panelists.
Training on Zoom technology for panelists at any skill level.
Day-of event emcee and hosting/facilitation.
Day-of event chat host or behind-the-scenes tech support.
Day-of event live-streaming to Facebook or YouTube.
After-event support for gathering reports, chat logs, and videos of your event.
After-event support for follow-up with meeting participants.
Free ebook
Go Virtual: Your checklist to engaging online events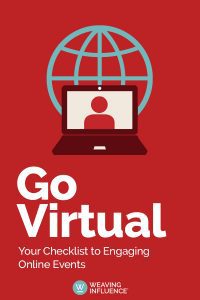 Free ebook
Rather than canceling your events altogether, re-envision them. This 10-page ebook will give you the insider secrets to hosting an engaging online training, webinar, or workshop fit for your key stakeholders.
The Weaving Influence team has successfully delivered, facilitated, and supported hundreds of Zoom webinars and meetings, successfully training people of all ranges of technical ability to use the platform successfully. Since the beginning of COVID-19, we have:
Provided consulting and technology guidance for the Berrett-Koehler book marketing workshop, a two day event which required the coordination of a dozen speakers and 75 participants.
Facilitated, provided tech support, and chat hosted for webinars with up to 1000 participants.
Supported a non-profit in planning and executing a virtual scholarship breakfast event.
Hosted daily weekday webinars for 6 weeks to provide value during the COVID crisis.
Provided tech and chat support for a Zoom webinar with dozens of panelists for the Indo American Press Club Virtual Induction.
Published an ebook to provide guidance for people looking to move their events to virtual.
Are you ready to deliver a flawless online event?
Contact our team to discuss how we can support you.
What Our Clients Say
Becky Robinson and Weaving Influence helped us shift our Annual Scholarship Breakfast to an engaging virtual event, handling all the details including set-up, planning, delivery, hosting, and streaming live to Facebook. We loved creating an alternative way for families to celebrate their childrens' success. The Weaving Influence team even included photos of scholarship winners in a slide deck that we repurposed as Facebook graphics to get more reach for our organization.
Kathy Russeau
Executive Director, Community Foundation of Monroe County
What Our Clients Say
We were delighted to partner with Becky Robinson and the Weaving Influence team to design and deliver our Annual Shareholders Meeting, which was virtual-only for the first time in 2020. We presented the event as a Zoom meeting with breakouts. Becky contributed her invaluable virtual meeting design expertise to ensure we created and delivered a highly interactive, glitch-free event that engaged our participants throughout. She and her team handled both behind-the-scenes technology and day-of event facilitation in a skilled, intelligent, and engaging way. We subsequently received rave reviews of her team's contributions from multiple stakeholders who attended.
Any group looking to conduct a compelling virtual event would be deeply fortunate to hire Becky and her team.
Johanna Vondelling
President and Publisher, Berrett-Koehler Publishers
What Our Clients Say
I worked with Becky Robinson at Weaving Influence on the Indo-American Press Club's 2020 Virtual Induction Ceremony. We had a large number of presenters and panelists worldwide and a wide range of experience with the technology of the meeting.
Becky patiently trained the group and set us up for a smooth event, managing multiple requests as she handled the behind the scenes details for our event. I would highly recommend Becky and the Weaving Influence team to support virtual events.
Annie Koshy
Executive Vice President, Indo American Press Club