Lifeline: Recovering Your Mental Wellness Through Uncovering Your Creative Brilliance
December 12 at 12 PM (ET)
Are you feeling physically or mentally tapped out? Are you struggling with the unrelenting demands of your career and life or haunted by past trauma you can't overcome? If you are ready to reclaim the joy you desperately seek – please join us for this empowering webinar with Lane Gardner, TEDx speaker, author, arts educator, and President/Co-founder of Thread (a therapeutic arts non-profit).
Lane will share her own inspiring story of overcoming trauma and how she used creative expression as a lifeline back to herself as detailed in her new book, Lifeline: Recovering Your Mental Wellness Through Uncovering Your Creative Brilliance.
During this interactive conversation, you'll learn:
How the

transformative power of creative expression

can empower you to release the emotions, fears, and anxieties that are holding you back

Practical ways to

integrate creative expression into your daily life

to enhance your mental health and overall wellbeing

Why the creative process is a powerful tool to

reconnect with your true essence and brilliance
Make 2024 your best year yet by dedicating just one hour to prioritize your self-care! Please join us to discover the tools you need to create a life filled with happiness and fulfillment. Let's learn together!


By signing up you agree to give your contact information to Weaving Influence and Lane Gardner. You may opt out of messages at any time.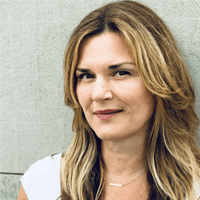 Lane Gardner
As a longtime trailblazer in the field of therapeutic arts, Lane's work is an emerging voice in a world where innovative solutions to our rising mental health crisis are desperately needed. She is a fierce advocate for helping people Uncover, Recover, and Discover their original superpower: Creative Expression. Taking the pressure out of trying to be an 'artist', Lane's method utilizes the unique and one-of-a-kind creative expression of each individual as the perfect tool-kit to support both deep healing and everyday mental health.
Lane is President and Co-Founder of THREAD, a 501(c)(3) therapeutic arts non-profit organization that serves the needs of adult individuals and communities who suffer from trauma, including survivors of abuse and chronic illness, those struggling with addiction and mental health, incarcerated men and women, veterans, and those impacted by inequity and discrimination. THREAD also implements programs to address the urgent needs of communities affected by gun violence, natural disasters, and other crisis scenarios.