Weaving Influence is a diverse team from diverse places! On a daily basis, I will connect with people in Michigan, California, Washington, D.C., Texas, Florida, and more. Though I am currently the only team member living abroad (in Jerusalem), that was not always the case. Today's featured team member, web developer John Marcello, currently resides in Florida, but was living in Bogota, Columbia when we first connected about a year ago. Often, John and I would discuss a new web project with a mixture of Spanish and Hebrew conversations going on in the background.
Let's learn a little about John and what makes him tick.
Tell us a bit about your personal life and interests. I was born in Akron, Ohio and lived in Cuyahoga Falls for many years. I moved and later grew up between the my Mom's horse farm in Newbury, Massachusetts and the sun and surf of Boca Raton, Florida. Because of this I spent every day of my summers riding horses and training animals. This would come in handy as I would later raise 4 dogs to become Guide Dogs For The Blind. My favorite things to do outside of work are hiking, skiing and snorkeling.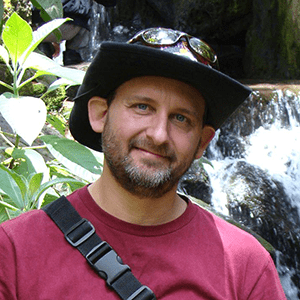 Tell us about how you connected with Weaving Influence. In 2008, as the real estate market crashed (my current field), I moved to Bogota, Colombia to meet my wife (we have now been happily married 6.5 years). It was at this time that I started by freelance web development part of my career.  A chance introduction to Becky Robinson through our mutual colleague Susan Mazza, led to my current relationship with Weaving Influence. This phase of my life has truly been one of the most satisfying times in my career. Not only do I get to do something love, but I get to do it with an amazing group of talented, caring individuals. I wouldn't trade this experience for the world.
What is your favorite part of working remotely? I have worked remotely from two continents and too many cities to count. That is one of the things that I love that most about having a virtual work opportunity – being able to travel freely. This means I get to spend a lot of quality time with my family, because they are always near by, and this adds a lot of value to my daily life.
What is one of your favorite websites you have done for WI and why?  One piece of work I am particularly proud of is a site we recently completed for Bill Treasurer's Giant Leap Consulting. For me I think it is a good representation for where we are at currently in the web development and branding space.
How can people get in touch with you? Admittedly, I am probably not as social as I should be so you most likely won't find me on the traditional channels, like Facebook or Twitter.  If you'd like to contact me, I have an open door and can be reached directly at john.marcello@yahoo.com. To to find out about hiring the Weaving Influence web team, click here or email Margy Kerr-Jarrett, our web team development director. It would be great to hear from you!

Margy Kerr-Jarrett enjoys reading, writing, and spending time in nature with her husband and daughter. Born and raised in Indianapolis, IN, Margy has been living in Jerusalem, Israel for the past three years.