It's been a while since I've done a linked post on Friday, but one of the best ways to build community is to help spread the word for others, don't you think? As Becky continues to spread the word about Hometown Reads (links included below, just in case you missed them) starting local with her Toledo community, we continue to spread the word for our "local" online communities as well.
Whether you're a member of the launch team for David Burkus or you've joined us in the exclusive Facebook group for Team Buzz Builder (if you're on Facebook and a part of TBB, welcome!), community can be found or created just about anywhere… even online.
A friend of mine wrote a post this week on Thin Difference about the importance of community, especially for those of us who work from home. As an introvert, my need for in-person contact differs from my extrovert friend, but the theory of community is one that I embrace. Online or in person, it's important to find ways to connect with people, engage in conversation, share ideas, and even talk about fun things like book recommendations!
It's equally important to support others as they pursue their dreams and goals, giving them a shout out online, buying their book, supporting their messages through likes and comments, and opening doors for them into your unique community. Which is what we're about to do right now… are you ready?
Let's start close to home with one of the most popular posts on the Weaving Influence blog this month by Team Buzz Builder-turned Weaving Influence Contractor, Paula Kiger! The Invisible Threads of Social Media (congrats, Paula!)
I personally loved this post from Cheryl Bachelder. You're In Charge Now is a MUST READ for anyone IN leadership, or anyone who thinks they could do it better if they were.
John Thurlbeck represents Team Buzz Builder from his home in the UK, and I loved his tweetable in Six Skills Needed to Work in Complex Organisations – truly, food for thought!
"Success mean your options multiply. Size increases complexity, and complexity can confuse vision." @JohnThurlbeck
John Perkins, author of our recently launched book, The New Confessions of an Economic Hit Man, has a number of in-person events coming up, possibly even to a town near you (Powell's City of Books in Portland, Oregon tomorrow night – I wish I could be there, but 3,000 miles…). Visit johnperkins.org/events – updated weekly!
Representing Team Buzz Builder: Kenya, Kimunya Mugo just launched "Leadership Safari" to help you unveil your identity, unleash your leadership, and build your legacy. This is an exciting time for Kimunya, and we're thrilled to support him as part of our community!
Closing out by bringing it back to Hometown Reads, here's the scoop!

If you're an author (aspiring or established) in the Toledo area, check out this special, IN-PERSON event taking place on Monday, February 29th at the Weaving Influence office.
Find Becky talking all about Hometown Reads on NBC24 WNWO – Watch the Video!
Follow us on Facebook and stay in the loop about what town we'll be focusing on next!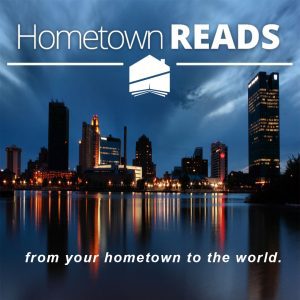 Now – we've shared our links, what would make YOUR list?
Carrie Koens joined the Weaving Influence team in May 2012 and has held a number of roles, including three years as the Book Launch Director (a title she stepped away from in June 2016 in order to focus on the needs of her growing family), and she currently serves the team as a Writer and Consultant. An INTJ with a penchant for culture, book stores, Parisian cafés, Indian curry, British mystery shows, and her passport, you can find her on Twitter @CGKoens.