Leadership is hard. There may be days when all you want to do is crawl home and pull the covers over your head. Or maybe that's just what you feel like when you're an introvert! Either way, leadership requires hard work and perseverance, and it helps if you can learn from people who have "been there, done that" along the way.
If you start noticing the hashtag #SLS2015 on Twitter, you'll want to take note because it's talking about a very unique opportunity that is taking place next Monday (11/9), and you will be kicking yourself if you miss it. Let's run through the list of speakers:
Ken Blanchard – one of the most influential leadership experts in the world
Mark Miller – serves as the Vice President of Training and Development at Chick-fil-A
Cheryl Bachelder – the CEO of Popeyes® Louisiana Kitchen Inc.​
Ken Jennings – bestselling author, speaker and active consultant in organizational leadership
Dr. John Stahl-Wert – highly sought-after keynote speaker, an expert in growing great leaders
Pat Falotico – CEO of the Robert K Greenleaf Center for Servant Leadership
Matt Tenney – social entrepreneur, author, international keynote speaker, trainer, and consultant
Impressed? You should read their short bios, and then their long bios! It seems like they get more done in an hour than I often get done in a week, and better still – they do it by using their leadership roles to serve others. In fact, this idea of servant leadership is so important to them, they are each giving up a portion of their work day on Monday to share their insights and wisdom with you – FOR FREE!
That's right, the Servant Leadership Summit is completely FREE to attend – and with almost 700 people registered already, you'll want to grab a virtual seat while they're still open!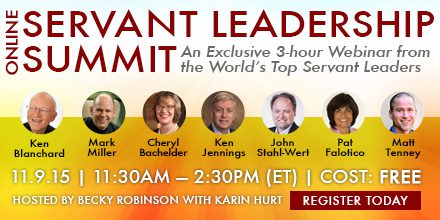 Joining this talented panel are your hosts – and fellow leaders – Karin Hurt and Becky Robinson. Karin is a keynote speaker, leadership consultant, and MBA professor whose award-winning blog, Let's Grow Leaders, has grown into a highly interactive, international community. I'm sure you know Becky, the founder and CEO of Weaving Influence, who has grown her company from a team of 5 contractors to over 30, including 7 employees who support her work with authors and thought-leaders.
So – what are you doing on Monday from 11:30 – 2:30 (ET)? I hope you're signed up to join us for 3 hours of leadership development and growth! Can't stay for all of it? Sign up anyway and join us for 30 minutes at lunch, or an hour in the afternoon – I guarantee you'll leave with something to think about and put into practice.
Spread the Word – Send this Tweet Now!
Join me at the FREE 3 hour Servant Leadership Summit #SLS2015 hosted by @beckyrbnsn & @LetsGrowLeaders on 11/9 http://bit.ly/SLS_Nov9
Carrie Koens joined the Weaving Influence team in May 2012 and has held a number of roles, including three years as the Book Launch Director (a title she stepped away from in June 2016 in order to focus on the needs of her growing family), and she currently serves the team as a Writer and Consultant. An INTJ with a penchant for culture, book stores, Parisian cafés, Indian curry, British mystery shows, and her passport, you can find her on Twitter @CGKoens.