Earlier this week Becky shared some of our company wins for 2015, and there were a lot of them! How fun it was to read through and think about how far we've come since 2012.
When Becky asked for company wins, she also got a lot of personal wins for the year – some work related, some family related. For some team members, their win was simply surviving the year – I think we've all had years like that. I know I have! I remember ringing in 2010 and saying to my husband, "It has to be better than last year, right?" #iamthankful that it was.
As we shared our various wins – everything from surviving to thriving, steps of faith to finding our groove, we thought it might be fun to focus the final Featured on Friday post of 2015 on our team and the many things we are personally grateful for this year. As long as this is, this doesn't include everyone on our team – a win for growth, right?
Margy (one of the original #WITeam members who returned this year) had some pretty significant wins in 2015 – including getting married, having a baby, and finding the perfect, flexible work! (check out her snowy day wedding photo)
While she shared company wins in her post, on the personal side of things Becky shares that moving the Weaving Influence office out of her home provided an unexpected relief, giving her space to create more boundaries between work life and home life. Ever the runner, Becky also shared, "I'm grateful for the support of my running group and happy I got to run my 2nd marathon this year." Way to go, Becky!
Kylah's been working with us for a long time now, but she shared that one of her wins this year was finally settling into a work-for-herself routine that actually works for her. Because of finding that balance, another win was the ability to partially live abroad in China this year (while still working with Weaving Influence), the traveling she gets to do while in Asia, and the flexibility to go back to her family and be present with them while her mom dealt with serious illness. We're happy to report that her mom is doing better – so that is a win for us all!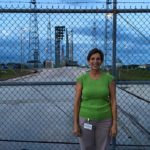 Paula shares that she's grateful to be feeling more equilibrium in her working/caregiving/family life in December 2015 as compared to January 2015, as well as the awesome opportunity to do several fun blogging trips – including one to NASA (see picture at left).
New to our team in 2015, Alicia says she had a lot of personal wins this year. She began this year calling it her "year of hope" after divorce, and it has been full of wins as she sees hope evolve into change for the better. She said she loves the forward motion in her life and is encouraged with every challenge that she overcomes. Stepping back into the workforce for Weaving Influence was a HUGE win for her – and we would agree that it was a win for us, too!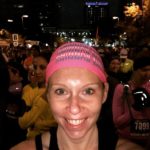 One of our newest Project Managers, Stephanie, says her wins include running two marathons, finishing her masters degree, and finding flexible, steady work with Weaving Influence! We think all of those are pretty great wins to celebrate, don't you? (she's the happy looking runner on the right)
From our super talented graphic designer, Rachel, we learn that her win revolved around something many would find stressful: a home renovation. When her family decided to renovate rather than move, the result was more space that gave Rachel a better office area to get her work done – one that includes a door that locks (helpful with small ones at home!). She states that this change of space is helping her find better boundaries with her work and family life – a huge win as those lines tend to get very blurred/non-existent when you work from home!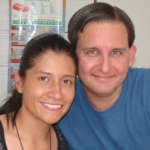 John (our "web guy") has had a big year, personally, finally satisfying a long-term debt which paved the way for he and his wife (from Colombia, South America) to begin the residency visa process to move back to the US in 2016. John shares that through his work with Weaving Influence he is also able to support his mother's household, provide for the welfare of his sister's children, and assist his wife's parents. John said it best,
"It is the opportunity to work that allows me to make a difference in other people's lives."
Tina's another new member of our team, joining us after she "retired" from one job earlier this year. We're so thrilled to have her! Although she had a long and successful career, her retirement was not her biggest win this year. That honor goes to making the decision to assist during the flood this year in Oregon, Ohio. Although it was one of the more difficult days she's had, Tina counts it as her personal win.
Jessica also joined us this year (you might notice a theme of team growth in 2015!), and her wins include going "back to work after 9 years of being 'just a mom'," and rocking it as a full time working mom thanks to the flexible work environment that Weaving Influence provides. It's that flexible environment that plays into another win of being able to address disordered attachment issues with her son, who was adopted; he gets stressed when at school, but because of the flexibility WI offers he is able to Facetime her twice a day and it has made all the difference! Great support at the school and a supportive work team for the win!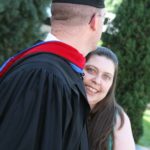 Elizabeth shares that her biggest win was seeing her husband, James, complete his M.Div after 7 long years of seminary (and over 125 credits). They are also celebrating taking concrete steps to move forward into their life's calling of being missionary church planters. (not sure who's happier, the graduate or his wife!)
I'm taking over here and sharing that one of MY wins this year was the return of Joanna to our team. She's stepped right back into being my "wing woman" on the book launches, and I couldn't be happier to have her back. Joanna lists one of her personal wins as getting back into a routine with work and feeling like her schedule was becoming a little more structured. She said it was also a win to step back into a company with which she was familiar and not feel like she was starting over, but rather being able to jump back in and get back to work.
After a semester abroad, Christina is back and sharing that her wins include coming back from living in Prague and ready to jump into her last year of college, stepping into two leadership positions in addition to classes, and her "wonderful part time work with WI." I loved that she included this in her list of wins:
"It's been a lot of leadership and management for me as a Bowdoin senior and actually my WI work has given me access to some leadership knowledge that has been more relevant to me than ever!"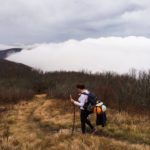 Christy's personal win was pretty "simple": Section hiking the Appalachian Trail in the Great Smoky Mountains and living to tell the tale! Way to go, Christy! We're all thankful she made it back in one piece to resume her outstanding work as our Director of Social Strategy. (our fearless hiking director can be see at left)
Our "other" Christy (who we often refer to as "Christy V") continues to do outstanding work with Weaving Influence as a Social Media Specialist. On the personal side of things, Christy's wins include making their house into a home, standing by two of her best friends as they got married, traveling and "realizing more than ever, how blessed I am." Amen to that, Christy – we all are!
Amanda kept her win simple – but powerful: "My family went though something big last January, something that could have had a negative impact on my family but we came out stronger then ever! It may have actually brought us closer!" That is, indeed, something to celebrate!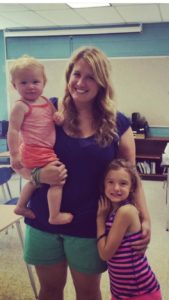 And yet another new 2015 team member, Christine, includes Weaving Influence among her wins this year, sharing, "Leaving my teaching job to work at WI and be more present in my children's lives." We're certainly grateful to have her on our PR team! (check out her last day in the classroom with her two cute kiddos in support of her decision) She sums up the thoughts of many WI team members in just two words:
"Forever grateful."
Cindy (new team member number I've-lost-count!) shares that she has witnessed so many "little" wins this year, which I'll let her share: "My niece adopted a second child from same birth parents as first adopted child, my new job at a wonderful company that puts relationships first with great co-workers, but most of all my dad is still with us this celebration season (we almost lost him recently)! Can't wait to see him Friday! I am so grateful for answered prayer in all of these 'events'!" What a great list of wins, don't you think?
Kate says her personal wins include consistently running/working out (she even joined the YMCA last week to continue that into the new year) and eating mostly homemade, healthy foods, which means she's getting better at this cooking gig! She also counts it as a win that she has 2 healthy and happy kids and she's still in love with her husband. Somewhere between personal and work, she says a big accomplishment in the year was helping to bring Glennon Doyle Melton of Momastery to her church in March (a gigantic undertaking). And on the professional side she's including her work with WI as a win because in addition to providing another (flexible) outlet for her writing/editing talents (something she appreciates as a stay-at-home mom), it also provides some extra income for her family.
Kayla joined Cindy, Kate, and the host of other "new arrivals" at Weaving Influence this year. Although she already had some big wins on her list like graduating from college, finding Weaving Influence, and her mom enjoying good health (and remission) after surviving breast cancer this past year, Kayla's wins got really big when she very unexpectedly got engaged this week! Congratulations, Kayla!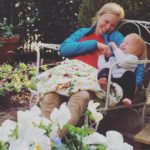 Whitney also joined our PR team this year and hit the ground running. We are so grateful to have her on our team and benefit from her expertise. Her personal win was taking a BIG leap of faith and leaving a very good, full-time job to spend time with her daughter, Eleanor (now 21 months). While she says this was a no-brainer for her, it was still extremely scary because it seemed like she would be leaving a career behind. She shares, "I will be forever grateful for the opportunity to join the #WITeam which allows me to contribute and grow professionally while still being able to focus on my most important job–that as a mom." (you can see her enjoying that job in the photo to the left)
Megan's back this year after taking some time off last year to welcome baby Blake to her family. It's been a big year for her with a new baby and a big move, plus she's still knocking it out of the park with her PR work with Weaving Influence. Megan always goes above and beyond when it comes to her clients, and when they're in her "neck of the woods" she goes so far as to meet them at the airport and even open her home to them. When I asked her what her wins were for 2015, she said, "meeting WI clients in person" – is that terrific or what? (check her out with Chip Bell, David Greer, and Don Maruska)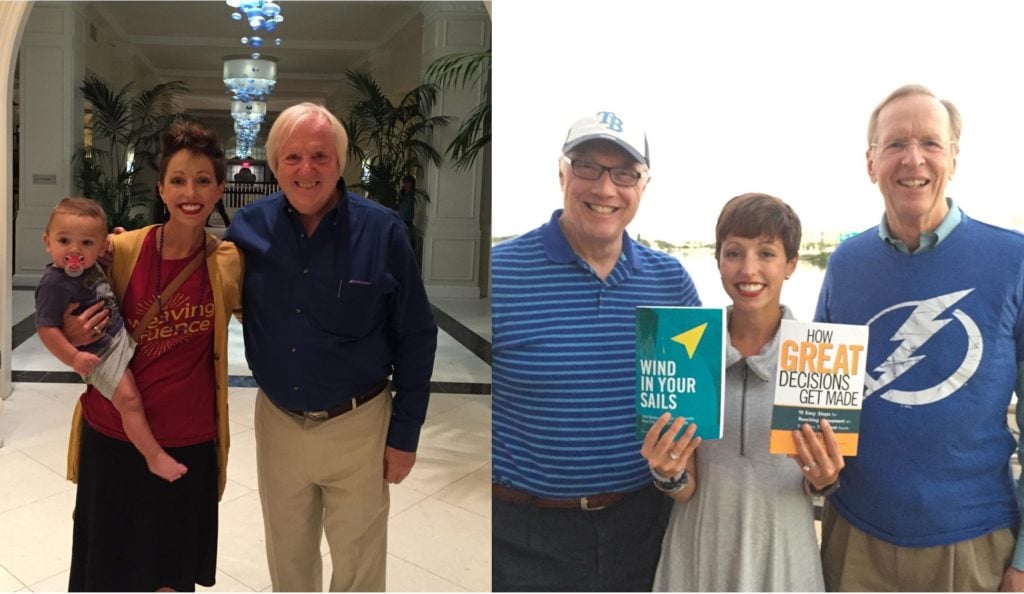 Whether you are joining those who are just happy to have survived the year with your faith and family intact, or you're dancing for joy at the success you've experienced, I hope you'll spend some time celebrating these personal wins with our team.
On a personal note: I (Carrie) would like to wish you a very Merry Christmas and a Happy New Year – I'll see you back here in 2016!
Carrie Koens joined the Weaving Influence team in May 2012 and has held a number of roles, including three years as the Book Launch Director (a title she stepped away from in June 2016 in order to focus on the needs of her growing family), and she currently serves the team as a Writer and Consultant. An INTJ with a penchant for culture, book stores, Parisian cafés, Indian curry, British mystery shows, and her passport, you can find her on Twitter @CGKoens.