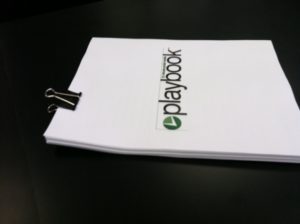 Yesterday, I headed to the copy shop to print out a draft of 12 Minute Social Media Playbook, a product I am developing with Phil Gerbyshak. It is — by far — the longest document I've ever written (longer than anything I wrote in graduate school, even!)
It feels weighty in my hands, and it represents sacrifices I've made over the last few months: sacrifices of sleep, fun, and free time.
Even though we are far from launching our product, and we have more sacrifices and hard work ahead to finish it, this first printed draft feels like a great accomplishment.
I've been thinking about how amazing it is to have a strong partner and how much more we can accomplish together.
Having a partner is great because:
A partner provides accountability. Along the way, I've known that Phil is counting on me to get this done. So I've been more focused than I might have been without him. When I trained for a half marathon in the fall of 2009, knowing that I would be running with a partner gave me extra motivation to train regularly (thanks, Angie.)
A partner gives encouragement. On Friday, while trying to film video for Toledo BizConnect TV, I kept getting stuck. I picked up the phone and called Phil, who talked me through it. Partners can cheer each other on and celebrate together.
A partner can energize and extend my ideas. I love having a sounding board for my ideas. More than that, I love the energy that Phil helps me generate and the ways he can take an idea of mine and help me extend it, seeing even bigger possibilities.
A partner means that I have someone to share the work. Yesterday morning, my husband took our girls out to the library and shopping so I could have quiet time to finish some writing. Phil shares the work in creating the playbook product and we can divide work based on our different strengths.
Tell me something! Why are you glad to have a business partner? What have you accomplished with a partner that you couldn't have completed alone?