Every once in a while, we like to introduce various team members and let you get to know the people behind the screen a little better. (See previous team member interviews here.) Today's is a fun one for me, since Carrie was the first person I met from the Weaving Influence team, and she was instrumental in bringing me on board! I have learned a lot from her, both in a work capacity as well as through her example of gratitude and perseverance despite some interesting challenges. She is not only a fellow #introvert and coworker, but has become a good friend and prayer partner too.
Today's interview is made even more special because we're also celebrating the 5 year anniversary of Julie Winkle Giulioni and Beverly Kaye's bestseller, Help Them Grow or Watch Them Go — a book that today's team member helped launch five years ago! I know she's excited to be working with Julie again, so I'll let her share more about that. So without further ado . . .
Meet Carrie Koens
Tell us a little bit about yourself!
I am a work in progress – personally, professionally, and spiritually. As an INTJ, I'm rarely satisfied with the status quo and always looking for new solutions. As a bookworm, I'm constantly learning from those who come at life from a different point of view. As a born-again Christian, I'm continually striving to die to self and life a life that honors my Savior. I adore good food, and thankfully my husband of 17 years loves to cook. I'm a sucker for a good Indian curry, squeal over anything pumpkin, was a fan of Sherlock Holmes and Hercule Poirot long before it was hip, and not-so-secretly dream of moving to Paris. After 16 years of being childless by choice, in 2016 we embarked on a wild, God-orchestrated journey of parenthood when we adopted five siblings from Costa Rica (four girls and a boy).
What's the last book you read and really enjoyed?
Keys to the Deeper Life by A.W. Tozer
Just for fun: tell us one thing that's on your bucket list!
I've lived, worked, and traveled all over the world, but visiting New Zealand is definitely on my bucket list (along with scoring that perfect apartment right by the Eiffel Tower, of course!).
How did you get connected with Weaving Influence?
Almost six years ago, an unhappy English-major-turned-reluctant-pharmacy-tech was talked into acquiring a Twitter account and connecting with a woman named Becky Robinson. About five and a half years ago, Becky asked this unhappy pharmacy tech what her dream job would be, and the tech – taking a chance, since she figured she'd never hear from this Twitter woman again – answered, "reading books and editing from home." On May 4, 2012, Becky offered that woman a work-from-home job, and the rest, as they say, is history.
Share a little about your role on the team.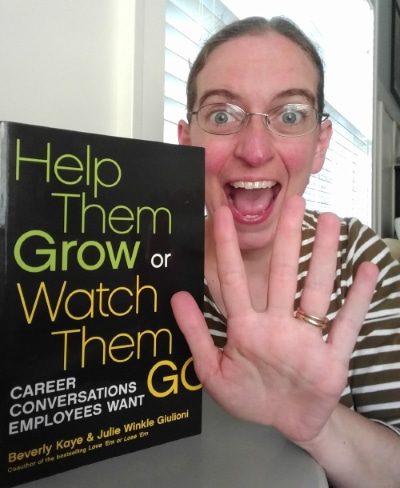 I began working with Weaving Influence in May 2012, coming in right before the launch of Dare, Dream, Do by Whitney Johnson. Shortly thereafter I was assigned to work with Julie Winkle Giulioni, whose book (co-authored with Beverly Kaye), Help Them Grow or Watch Them Go, was launching in September 2012. Julie was incredibly patient with me as I learned the ropes, and truly helped ME grow in professional confidence and skill. Over the years I served in a variety of roles, including Book Launch Director, before stepping away in June 2016 to finalize the adoption. In January 2017, Becky invited me back to WI, offering the flexibility needed to fit my new family dynamics. I'm primarily involved in behind-the-scenes oversight, but occasionally fill in on project management, and am currently thrilled to be overseeing the 5 Year Anniversary Celebration for Help Them Grow or Watch Them Go, once again working with the lovely and gracious Julie Winkle Giulioni.
What's your favorite aspect of your work?
Hands-down the flexibility and the ability to work from home. While I appreciated it before, now that I'm a mom of 5, I cannot imagine trying to juggle five kids and school schedules and sporting events while holding down a traditional 9-5, even if it was just part-time. I am so grateful for the opportunity that Becky creates through Weaving Influence, allowing me to use the OTHER half of my brain and bring in some much needed income for our expanded family.
Could you share one tip about book launches for the rest of us?
One thing that I think people fail to understand is that your friends and family – while super excited for you – are not going buy enough books to put you on the New York Times bestseller list. Your audience needs to be broader than your holiday card list, so put yourself out there and start engaging! Most people – even those who hate social – realize that in 2017 the social element is an important part of any launch, product, or company; but what they fail to realize is that if they create the accounts but never show up, they might as well not have a social presence at all. By all means, HIRE someone to help you run the accounts (like the talented team at WI), but don't forget to log on yourself – even if it's just once or twice a week – and engage with your audience. Trust me: people know when it's YOU, rather than your team. Becky's been saying it for years . . . the magic happens when YOU show up.
Thanks Carrie! How can people connect with you outside of Weaving Influence?
Confession: I have three, infrequently updated blogs: www.carriesbusynothings.com (personal), 7koens.blogspot.com (adoption), and www.cgkoens.com (professional). Most of my free time is spent on Facebook, and you can follow me at BusyNothings (personal), AndThenThereWere7 (adoption), or CGKoens (professional). Find me on Twitter @cgkoens.
More About 'Help Them Grow'
It's hard to believe that it's been five years since Help Them Grow launched, but this timeless book definitely deserves a celebration! We'll be celebrating throughout the month of September, culminating in a focused celebratory week on October 2-6. Over the next few weeks, we would love for you to help us flood social media with congratulations. It's also a great time to buy your own copy, or leave a quick review on Amazon or Goodreads if you've already read it. Plus, don't forget to visit the website to learn more!