I'm not sure where our company would be without today's featured team member. She's our Web Projects Manager and is the community manager for the Weaving Influence Lab, but it seems like she does so much more — not just at work, but in the rest of life too. She's a gracious coworker, a sweet mom to her little girl, loving wife, and caring neighbor and friend to many. I've not had the privilege of meeting her in person, as we basically live on opposite sides of the globe (Wyoming and Israel — maybe someday our paths will cross!), so I was grateful she agreed to share a little more about herself in today's post!
Meet Margy Kerr-Jarrett
Tell us a little bit about yourself!
I am originally from Indianapolis, Indiana, and have lived in Israel for the better part of my adult life (I am now 29). Actually, Indiana and Israel are the only two places I have ever lived, and they could not be more different! I am so grateful for my life — I have an amazing Jamaican husband who is studying to be a Rabbi and an adorable 2-year-old daughter named Eliana. Besides working from my home office (a desk in my daughter's room) for Weaving Influence, I enjoy exploring this amazing city, cooking, hosting guests in our home, and writing and reading poetry.
What's one thing you've been learning about recently?
I have recently been reading a lot about meditation and how it can affect our health and overall productivity — something I could definitely use a boost in, as a mom of a young child in preschool. My husband prays in a synagogue three times a day and that really keeps him grounded, but I often need to be really mindful to take time to decompress and re-focus on what's real and important.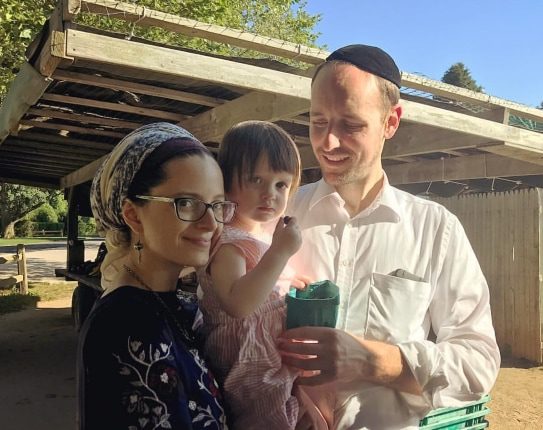 Just for fun: tell us something unusual about yourself!
I LOVE spicy food! My husband and I are always looking for new spicy recipes from around the world. In recent weeks, we have made Jamaican Jerk Chicken, Ethiopian Darowat (a spicy stew), and Sudanese-pepper beef. Ironically, my husband was vegan for 5 years before we met and I was vegetarian for 16 . . . now we love meat!
How did you originally connect with Weaving Influence?
My Aunt, Jesse Lyn Stoner, connected me to Becky when I was still in college. I actually was part of the original WI team for about a year back in 2012.
Share a little about your current role on the team.
This time around, I have been with the WI team for about 2.5 years. I mostly focus on business development, marketing, and project management for web projects.
What's your favorite aspect of your work?
I love working creatively on new projects and thinking big-picture.
Can you share one tip about websites for the rest of us?
Websites can be so overwhelming, but the most important part is to be SUPER clear about what you offer and who it's for, otherwise visitors to your site are likely to click away without giving you a chance.
How can people connect with you outside of Weaving Influence?
You can email me margy@weavinginfluence.com or find me on Facebook.
Thanks Margy! It's been great getting to know you a little better! 
Got any questions for Margy? Leave them in the comments below.