In case you haven't noticed, we've been sharing a whole lot of PR tips lately . . . tips to help you market yourself, whether as a thought leader or author, and guide you to greater success in your interactions with the media.
But the public relations world has a language all its own, doesn't it? Even as an author and a member of the #WIteam for over 6 years, some of it still sounds pretty foreign to me. So I always love when Whitney Heins, our Public Relations Director, offers to share some practical tips for the rest of us. She has a great way of distilling complex processes into bite-sized concepts that anyone (even me!) can understand and put into practice. I'm excited to have her share a little more of herself with us today!
Meet Whitney Heins
Tell us a little bit about yourself.
I live in Knoxville, Tennessee, with my husband, Jake, two kids (Eleanor, 5, and Cal, 2), and two dogs (Riley and Rooney). I've lived all over the country, but ended up here because of a TV news job where I served as a morning anchor and reporter for the ABC News affiliate in town. I met my husband and ended up staying because I love him (his job is rooted here in a century-old family business) and because I came to love the slower life of a small city in the South.
What's the last book you read and really enjoyed? 
I'm guilty of reading many books at once but the last one I finished (not including client books) was A Man Called Ove by Fredrik Backman. It was touching, funny, charming, and beautifully written. And it reminds readers that you don't know someone's whole story, and instills a sense of empathy.
Tell us one thing that's on your bucket list.
I've been a runner most of my life, although mostly casually. In the last year, I've gotten more serious and am now training to qualify for the Olympic Trials in the marathon this fall. I must run a 2:45 marathon which is about a 6:15 pace for 26.2 miles. I love running for many reasons, but one main reason is because it's something almost all of us can work hard at to reach the limits of our potential. I've always dreamed of seeing how "good" I could be at the sport and see what I'm capable of. Now, I'm working towards crossing that off my bucket list.
How did you get connected with Weaving Influence?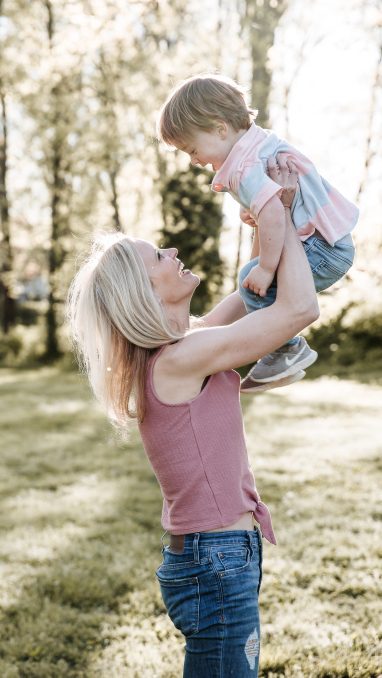 I had Eleanor in 2014, and went back to work at the University of Tennessee in their media relations office. I worked for about a year, but it just never felt right being away from her all day. So I resigned. On my last day of work at UT, a colleague who had worked with our CEO, Becky Robinson, recommended I get in touch with her for some freelance work. Becky and I connected, and what started as a little bit of freelance work turned into a now almost 5-years-and-counting position that I love.
Share a little about what you do, and your favorite aspect of your work for Weaving Influence.
I serve as director of the public relations team. In this role, I meet with clients to put together their media relations strategy, pitch clients to journalists, write media-related collateral and press releases, and oversee the work of our PR team. There are three favorite aspects (among many) of my work that I would like to share. First, I love learning about our clients' expertise. I became a journalist because I wanted to learn something new every day. I still get to do that and often use what I've learned to better my personal or professional life. Second, I love how conscientious, experienced, and talented the #WITeam is. It's so wonderful working with people who care about the work they do and the people they are doing it for. Finally, I love the flexibility of the job. Being able to soak up almost every moment of my young children's lives while still furthering my career is truly invaluable. Because of this position I have no regrets. The balancing act can be difficult but it's incredibly worth it.
Share one tip about PR for the rest of us.
In anything you do for media—written, spoken, whatever—always think about your audience and why they should care. Explain things in a concise and simple manner so that a middle schooler, or your grandma, can understand it.
How can people connect with you?
You can reach me at whitney@weavinginfluence.com, via Instagram at @WhitneySHeins, and on Facebook. I'm also working on an informational and inspirational website for moms who run called themotherrunners.com, set to launch this summer.
Thanks Whitney!! 
Have any questions for our PR rockstar, or want to give her a shout-out for something she's shared that really helped in your own marketing efforts? Leave her a comment below!