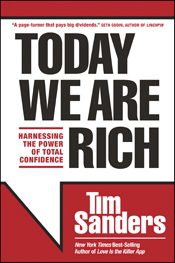 Some of my habits and practices are shifting.
One major influence in my shifts has been Tim Sanders' new book Today We Are Rich.
On a flight to Florida, I read almost the entire book. Immediately, Tim's stories mesmerized me. I returned from Florida exhausted, just in time for a long holiday weekend with my family. In addition to Memorial Day weekend, we also celebrated my daughters' 7th birthday and my 40th.
The combination of the holiday weekend and the need to recover from an intense work week compelled me to unplug a bit from social media channels.
I took a blogging break. I spent less time on Twitter. (A note: I have been tweeting since May 2009. I have tweeted more than 20,000 times from several different accounts. Based on that number, I estimate that I have tweeted an average of more than 20 times a day over the past two years. I am almost embarassed to admit that —it seems a little crazy.)
During my social media break, I thought a lot about my personal habits and routines.
When I started working again in 2009, still in the throes of homeschooling and toddler wrangling, I got up very early in the morning to work, finishing projects before my day of school with the girls.
Before that time, my best intention would have been to begin my day with prayer and Bible study. I can't say I always began my day that way, especially when my girls were babies and toddlers. In those baby days, I most often started my day with early morning snuggles.
But when I returned to work, this was my routine, seven days a week: I would wake up — without an alarm — very early. I would walk downstairs, fire up my computer, and start working as the very first activity of my day. For a long time, the very first thing I did each morning was to send a good morning tweet to a group of my Twitter friends.
Plunging into work first thing each day definitely increased my productivity. I used my early morning time to write blog posts and connect with people online, to answer emails and check items off my to do list.
AND. When I started my day with work, I carried work throughout my day as my focus and touchstone.
As a day begins, so it goes.
Tim Sanders talks about the importance of a healthy mind diet: filling our minds with good, helpful, and positive perspectives. He also stresses the importance of starting the day unplugged from media. He recommends waiting one hour before going online.
A few weeks ago, I shifted my habits.
I still get up early but I ease into my day with Bible reading, reflection, and prayer. I spend time meditating on one thought for the day, a thought I can carry with me as a touchstone and focus.
And as my day begins, so it goes.
I am grateful to Tim Sanders for nudging me in the right direction and reminding me of the value of my past habits.
Tell me something! Do you have a morning routine? How does it influence the direction of your day? What shifts are you making in your life right now?