Partnership, a core value of Weaving Influence, takes many forms. Internally, we partner with one another to ensure not only that we are serving our clients well, but also that we are serving one another well. We partner with other companies who are experts in fields that complement ours, enabling us to expand our service offerings and meet the needs of our clients. And, we partner with our clients. We don't wish to be a vendor from which someone purchases a service. We want to come alongside our clients on their journeys and create success and opportunities together. Those clients with whom we have the most success are the clients who share and embrace this value of partnership as we work together to achieve their goals.
Customer service expert (and client) Chip R. Bell believes that when you partner with your customer, you build loyalty. In fact, he wrote a book called Customers as Partners in 1994, and you'll still find the idea of partnership woven through his most recent works.
Our family recently experienced this brand of innovative service while we were on vacation. It caught us by surprise, delighted us, and, indeed, built loyalty.
We were wrapping up a long weekend at Austin Lake RV Park and Cabins with a 2-hour pontoon rental. We'd enjoyed the scenery, trying out several different fishing spots around the lake (none of which resulted in the catching of a single fish), and it was time to head back to the dock. There was only one problem. The motor would not go down into the water. It would start, but that was it.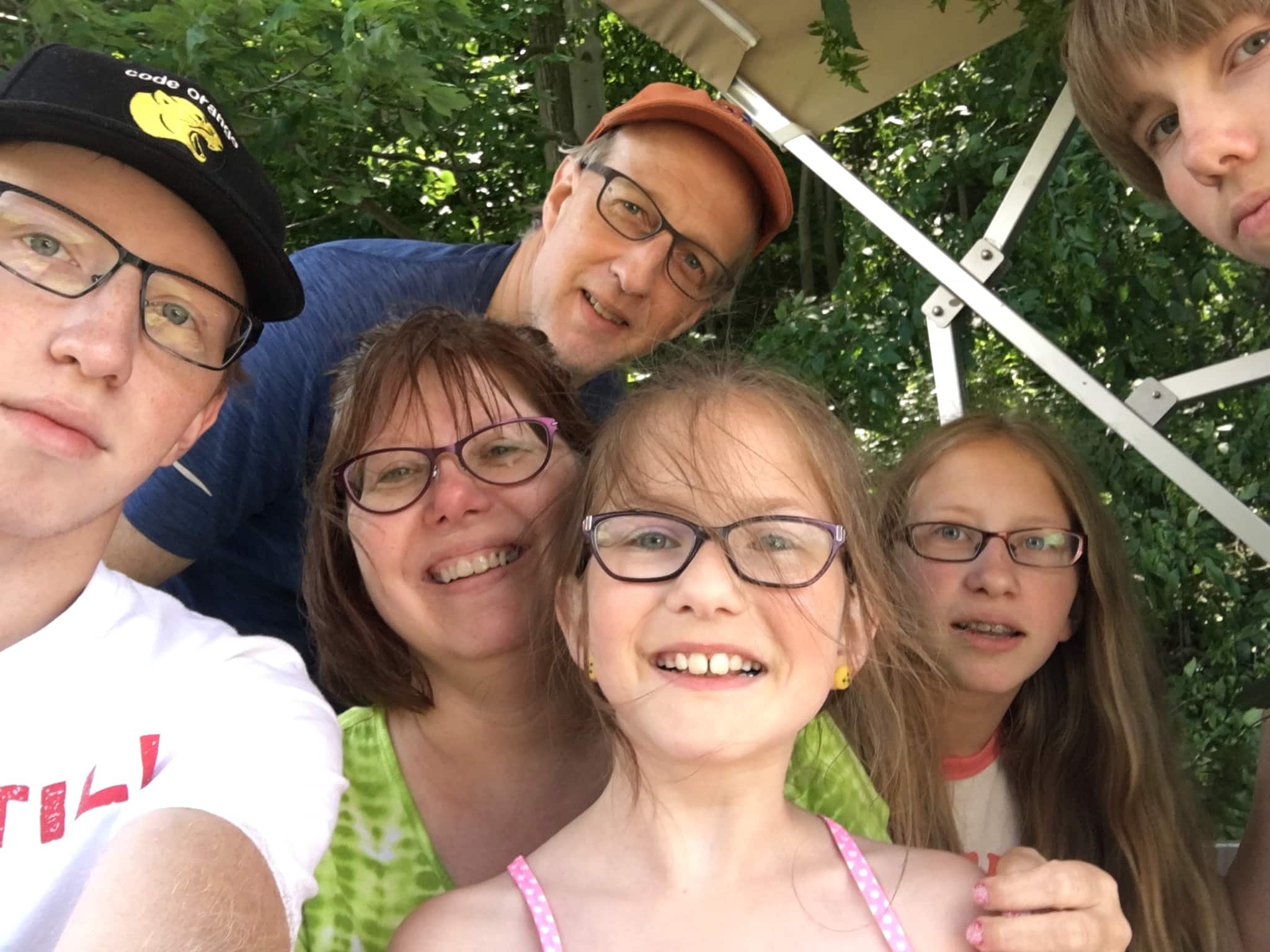 We were shipwrecked! You can see by our "Shipwrecked Selfie," that while we had drifted to the edge and were literally in the weeds and the trees, we weren't really concerned for our safety. But we did have to wait until another boat came by, as we were in a beautiful valley with no cell service. About an hour in to our misadventure, we saw the owner of the campground, Bill Cable, come around the bend on his jet-ski.
What I was expecting was that he would ask after our well-being and apologize for the malfunction of his boat. We were perfectly fine, and not at all upset that we had to float on the lovely lake for an extra hour. Nevertheless, I expected he would be somewhat serious and apologize.
Instead, he approached the pontoon wearing an orange t-shirt, overalls, and a big grin. He circled us three times before sidling his jet ski alongside the boat and coming on board. He first addressed our kids (ranging in age from college down to elementary), and enthusiastically told them they were so lucky because now they had great writing prompts when they went back to school about what happened on their summer vacation!
He quickly fixed the motor. And by fixed, I mean he plugged it back in! (In our defense, the plug was inside a compartment and we would have had no idea where to look!) Before he returned to his jet ski, he thanked us — yes, thanked us — three times! He said, "They never let me out here on this!" He wished us a great day and as we went in one direction to the dock, Bill sped off in the opposite direction to enjoy the gift we'd given him — time to play on the lake on a beautiful day! He didn't just make us his partners, he made us his partners-in-crime!
The encounter gave us all pause and a giggle. My oldest son looked at me and said, "I think you should introduce him to Chip Bell!" And it's had me thinking…
Sometimes the customer experience doesn't always go as expected, but when both parties engage in the spirit of partnership, it is possible for each party to take away something of value and feel satisfied, or better, with the outcome.
Amy, Vice President of Operations, wife to one and mom of four. Amy's first career was in retail management. After 20 years, she left to stay home full-time with her young children. Upon returning to the workforce in 2012, she joined Weaving Influence as a part time social media specialist and has fulfilled a variety of roles since then. Whether it's a weekend in Michigan's beautiful Upper Peninsula, or an extended trip to Hawaii, Amy's favorite thing to do is to travel with her family.