Over the past few months, I have enjoyed the privilege of getting to know Justin Miller and Nia Baker, two of the members of the team at CARE for AIDS.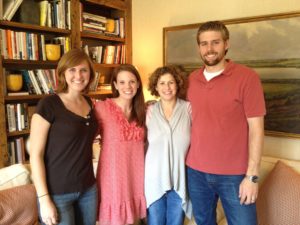 I first met Justin, the executive director of CARE for AIDS, through his father, Mark Miller, and Molly and I met Justin and Nia in person on a trip to Atlanta last month.
Molly Page (a member of the Weaving Influence team) and I have been providing consulting, strategy, and other social media help to Justin and Nia, and together the four of us created the UNITE to REWRITE campaign to mobilize bloggers and online influencers to use their influence for good.
I've had first-hand experience seeing the way a few tweets can make a big difference, so I hope you will join with me in this new effort.
CARE for AIDS is a nonprofit organization involved in bringing hope to families in Kenya affected by the HIV virus. CARE for AIDS provides vocational training and counseling to parents, effectively bringing hope to families without hope. They work through local churches.
We are inititating this UNITE to REWRITE campaign with a goal of raising $24,000 by the end of 2012. $24,000 will allow CARE for AIDS to open a new center in a new village, potentially making a difference for hundreds of families whose lives and stories can be rewritten.
I want to invite you to join me in making a difference. There are a few ways you can get involved:
You can GIVE. The Weaving Influence team has a goal of raising $6,000 over the next two months for this project.
You can WRITE. If you are a blogger and this cause resonates with you, we invite you to blog about this campaign and invite your readers, friends, followers, and fans to give.
You can TWEET. The CARE for AIDS team has made it easy for people to get involved. Check out the resources and use your online influence to make a difference.
I believe that together we can make a big difference in rewriting lives by bringing hope. I hope you'll join me in this effort!