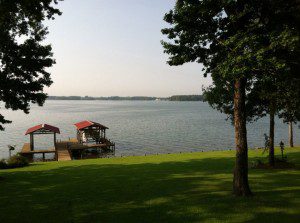 I am in South Carolina with my daughters this week.
A couple of social media contacts have sent me messages. Are you on vacation?
Well, yes. As another friend said, this is my vacation-ish.
I am in a beautiful place, with people I love, away from home. And I am also working. It is one of the beautiful things about working virtually. I can do it from virtually anywhere. Virtually.
Since I am on vacation and also working, I've been thinking about the nature of vacations. What makes something a vacation?
My husband and I moved into a new home many years ago. We'd been living in the "city" of Jamestown, NY, where our driveway adjoined another. We moved to the "country," less than ten miles away, to a home on three acres with a pond, woods, and a line of pine trees across that seemed to stretch for miles.
By crossing the road, we could walk in one hundred acres of state lands. We couldn't see any neighbors at all.
After we had settled in, some friends stopped by. "Living here," I told them, "feels like being on vacation all the time."
The change in scenery, the peace, the quiet. Even though I went to work every day, I felt, for weeks, like I was on vacation.
Enough is different, here, that I feel like I am on vacation even though I am getting as much work done as I usually do.
I work early, then break for breakfast with the family and a long swim in the lake that adjoins my parents' property.
I sit on the deck with my laptop, and connect by phone with my colleagues. In the late afternoon, I dive into the water again. Float on my back, swim out as far as I can, until my daughters look like specks on the shore.
And then, when my kids are tucked into bed, I work more.
And then I stop. I read a novel.
I am definitely on vacation.
And definitely working.
Tell me something!  Is it possible to be on vacation and work at the same time? What feels like vacation to you? Does the phrase "working vacation" make sense to you?
Last summer, after my trip here, I wrote this post for Women of HR on this same topic. Check it out if you want.