I have a habit of completely unplugging at night to be more focused on my family and give myself a break from the busy pace of my work day.
If I hear a text come through, I will sometimes walk to the phone to read it. I ignore email, Twitter, and Facebook; 13 hours of immersion and connection is enough.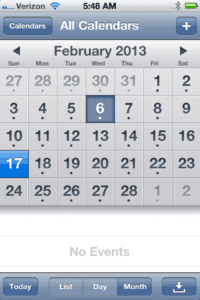 This is a strategy that works quite well for me. My team knows I unplug at night, and no clients have complained (yet.)
Enter: a training call that I scheduled last night for 8 pm ET.
It's funny, in this case, I don't remember hearing the calendar alert. And I know why — at 8 pm, I was still upstairs, finishing my girls' bedtime routines. My phone, downstairs, on the charger.
So, I woke up to an email from the delightful CEO of Maestro Market, Ian Shea, asking me about our planned Go to Meeting, the one I scheduled and then forgot.
My day began with a realization of a mistake.
What could I do? Go back to bed (tempting), cover up for my mistake (my first thought was that it had to be a calendar malfunction.)
Here's the only thing to do.
Admit it. (Wow, I messed up. I know your time is important.)
Apologize. Look for a way to make it right. (I'm sorry. Can we reschedule at a time that's convenient for you?)
Move on.
In my case, I am moving on to a busy day. The pace will be hectic; I'll need to stay focused and present. I'll need to bring my best, do my best, give my best.
There's no time for feeling sorry for myself, or beating myself up.
I have made mistakes before. I will make mistakes again. I may mess up bigger than this later today, although I don't plan to.
Instead, I'll pray for grace in each moment, for these moments — TODAY — is the only day I have.
Tell me something! What do you do when your day begins with a mistake?
Maestro Market is your connection to hand-picked experts. From their website: "Maestro Market is a unique and first-of-its-kind platform that connects people with their ideal experts, or even their heroes. This exciting new platform facilitates a variety of engagements, whether in-person, over Skype, via telephone, etc., between talented experts and anyone interested in learning a skill, solving a problem, getting inspired, gifting an experience or indulging a desire. The experts span numerous categories including parenting,writing, women in business, social media, blogging, entrepreneurship, and many more." Check out my offerings at Maestro Market.