Three years ago today, our family made a big move from Chicago to where we are now.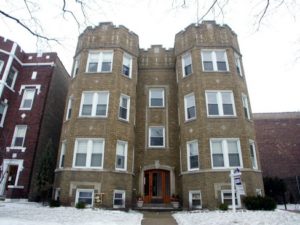 Our second floor condo: home for nearly 8 years. When we arrived, our daughter had just learned to walk. We welcomed two more daughters to our family during our time there.
Here's what I miss: our friends , the diversity of the city, the abundance of cool opportunities for learning and outings with the girls, our favorite lakeside parks and beaches, the pizza.
Here's what I don't miss: the noise, the traffic and the time spent getting from here to there, carrying groceries up two flights of stairs, the need to find parking on the street, parallel parking, my husband's lengthy commute.
Life is much easier where we live now. We have more space, central air conditionig, an attached garage, a greatly reduced commute for my husband, and proximity to extended family.
Thinking about where we were geographically three years ago today reminds me of how far I've come personally in that time. The change of geography brought a host of other transitions for me: from homeschooling mom to a mom of kids in public school, from an occasional free lance worker to a full time business owner.
We've come along way.
Tell me something! Where were you three years ago today? What transitions have you experienced? Where do you want to be three years from now?