When I first spoke with Ken Rutsky, the founder and principal consultant at KJR Asscoiates, Inc., back in the spring, I was excited to hear his ambitious plans for the summer: launch his first book and create a new website. A few months later, I am so proud of the work we have done to help Ken accomplish these goals!
The Weaving Influence design team completed a beautiful book cover design for Ken, and built his new website, kenrutsky.com, that highlights his work as a speaker, author, and consultant.
Ken Rutsky
Ken Rutsky helps B2B growth company executives in sales, marketing, and the C-Suite to breakthrough, achieve, and grow market leadership in new and existing markets. His clients not only lead, they improve key sales and marketing metrics like leads to revenue and opportunities to close.
Ken has spent 20+ years in B2B marketing roles, launching the Intel Inside broadcast co-op program in 1991 and the Internet's first affiliate marketing program, Netscape Now, at Netscape from 1995-99; has been CMO at several start-ups; and has run network security marketing at McAfee.
The Book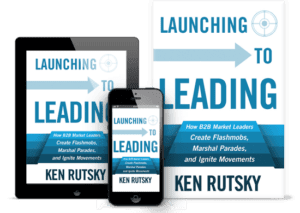 Ken Rutsky's new book, Launching to Leading, is now available from Amazon and other book retailers. Launching to Leading explains how and why market leaders succeed in breaking through and leading in today's crowded markets, and reveals how to apply this to your business to take you from Launching to Leading and beyond. Learn more on Ken's book page!
The Website
It was a lot of fun working with Ken, a very dynamic and pro-active collaborator, on his site! We are thrilled with the way it turned out and are happy to report that Ken is as well.
Check out Ken's new site to learn more:
Connect with Ken on Facebook, Twitter, or LinkedIn. Additionally, you can send him an email at ken@kjrassociates.com.
Interested in our book design or web design/development services? Contact us to learn more!

Margy Kerr-Jarrett enjoys reading, writing, and spending time in nature with her husband and daughter. Born and raised in Indianapolis, IN, Margy has been living in Jerusalem, Israel for the past three years.