Note: If you're looking for an "out of the box" holiday gift idea – KEEP READING!
This is a much longer-than-usual post, but I ask that you hang in there with me because it's so important and offers opportunities to get involved, give generously, and be inspired this holiday season. Thanks! ~ Carrie
In the autumn of 2012, Linda Freeman entered my life as my next book launch client… and never left! Once a month I have the opportunity to speak with Linda on the phone – allegedly to talk about our work for her and recommend best social practices, but in actuality, to hear about her work in Florida and Cambodia. I leave every phone call energized and inspired.
Her passion for the work in Cambodia, her determination in making a difference for the children of incarcerated parents, and her love for her own family bring a smile to my face and encouragement to my heart. Linda is a woman on a mission.
Last month I used our time to interview her about the work going on in Cambodia. What follows are just highlights – mere snippets – of everything we discussed over 45 minutes, but include an amazing opportunity for YOU to get involved! Keep reading!
Cambodian Care and Light of Future Schools
Last year Cambodian Care was started by the former executive director of Teen Challenge Cambodia, Koy Chhim, and his wife, Reny. After receiving their Non-Governmental Organization (NGO) status (non-profit for those of us in the U.S.) from the Cambodian government, they set right to work starting the first Light of Future School in the capital city of Phnom Penh.
Since then, Cambodian Care has started two additional schools, with 512 children enrolled and actively participating! The next goal is to make sure they meet the standards of government run schools in order to gain government accreditation. Linda shared with me that those in Cambodia see spiritual growth as a part of life, not to be separated from learning and other experiences. Because of this belief, Light of Future Schools is able to incorporate spiritual growth (from a Christian perspective) into the curriculum and overall educational process.
The Town with No Name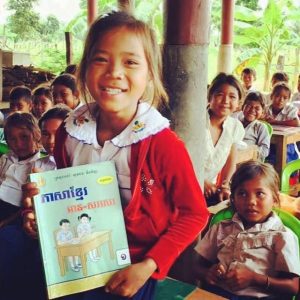 In 1971, Snoul was taken over by the Communists during the Vietnam war; but in 2015, Snoul became the "hub" for Linda and her team, driving out each day to a small village that sits approximately 5 hours from Phnom Penh, and 15 minutes from the Vietnam border. Because of their proximity to Vietnam, the trade language is actually a mix of Vietnamese and Khmer – the local dialect, which provided a challenge to the team's Cambodian translators.
When the village leaders found out about the work of Cambodian Care, they reached out to Koy and asked for a school, informing him that the villagers had already agreed to give a piece of land for the building.  This open invitation is how Linda and her team from Florida found themselves bouncing down a road to the Kratie Province this past August, ready to meet the villagers who couldn't read or write, but knew they wanted to learn.
Welcomed by one and all, Linda and her team focused on hosting a medical clinic during their days in the village (which ties in to the unique Christmas gift opportunity – just keep reading!). The stories from their time there could fill a blog, and Linda has written some incredible posts about their experiences, including When More Happens, What Love Will Do, and Great Things Start Small – you should read them all! 
Education: One Answer to the Sex Trafficking Issue
Cambodia is, sadly, well known for sex trafficking. On a previous trip, Linda and her team worked with She Rescue Home (SRH), founded by Australian sisters, Leigh and Hillary. SRH opens their doors to receive girls who have been referred by a government agency, often as a result of being rescued during a sting operation. Hosting around 30 girls at a time, the staff work with them for up to 18 months, offering counseling, trauma therapy, medical care, and education, and employ social workers to find an alternative placement if going home is not an option. For those who do return home, the SRH team works with the families, finding ways for them to create self-sustaining income opportunities rather than selling their daughters to the sex trafficking world.
GIFT IDEA #1: If you're looking for a great cause to donate to this holiday season, the work at She Rescue Home doesn't come cheap – they have staff and social workers, and cover the girls (often extensive) medical care – so consider making a donation this year.
However, before the girls arrive at SRH the sex traffickers first have to find them. In many cases they head out to the country, to towns like Snuol, and villages with little to no literacy or income potential, offering "opportunities" for parents to make money and girls to leave the village. Once they are sold, the traffickers take them back to the capital (hours from home), with no way for the girl (often a young child) to communicate with her family, or even know where she is living or what's expected of her.
Enter education! By locating schools in these rural villages, both the current generation (and their parents) and future generations can gain the education they need to become self-sustaining through literacy and job development. When the traffickers deceitfully offer educational "opportunities" and access to "health care," the villagers can say, "We don't need to send our daughters to the big city for that, we have a school and access to health care right here!" Providing for their educational needs and supporting self-sustaining families through economic growth are great tools in the fight against sex trafficking.
Linda's desire is to be involved in the Light of Future School project until the first students graduate from high school 10 years from now. In order to really be sustainable, responsible, and practice good stewardship, Linda is committed to stay connected and, in her words, she's "in it for the long haul," desiring to see the difference this can make in the children's lives.
The 5-Year Shoe (CHRISTMAS GIFT!)
While hosting the medical clinic, Linda and her team noticed a lot of foot injuries and issues. From bad cuts to infections, the team did their best to clean up and patch up, but felt discouraged as they watched the newly cleaned and doctored bare feet head off into the dust. After returning to Phnom Penh, Linda observed the filth (dirt, waste, and bodily fluids) that the Light of Future students walked through each day – barefoot – in order to learn. The wheels started turning, but it wasn't until she returned home and was talking to her daughter-in-law about it that a solution presented itself.
Meet: "The Shoe That Grows" – footwear specifically designed for children in developing countries where both sanitation and resources to replace outgrown shoes is an issue. The Shoe That Grows is intended to last up to 5 years, or 5 shoe sizes, and comes with it's own shoe bag for storage at night or when not in use.
August 5-19, 2016, Linda and her team intend to go back to all three schools, once again providing medical care to the feet of the students – but this time, sending each child away with a Shoe That Grows. To fund that, Linda has set a goal to raise enough money to purchase 600 pairs of shoes (allowing for school growth from the current 512 students) before their next trip.
Her daughter-in-law, Daniella, volunteered to use her birthday this week as the fund raising kick-off, requesting donations instead of gifts, and set up a fund raising site for the 600 Shoe Goal. To accommodate our desire to help, Linda and Daniella have agreed to extend their campaign through December 31st – so if you EVER wanted to justify buying a pair of shoes, NOW IS THE TIME!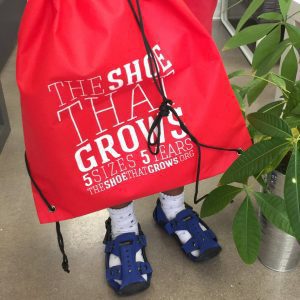 GIFT IDEA #2 Donate Today!
Another easy way to help with this is to vote (by "liking" it) for #MyGivingStory about The Shoe That Grows on Facebook. With enough votes, Linda could win up to $5K to put shoes on these kids feet! VOTE NOW!
The End.
If you've hung in with me this long, I appreciate it. I know it's not because of my writing, but because of the amazingly exciting work that Linda is generously allowing us to be a part of. Although the world often feels like it's going crazy with attacks in Paris, bombings in Lebanon and Nigeria, and a slew of shootings in the U.S., it's hope-inducing to read about the work of people like Linda and Koy, and to see the positive impact being made on future generations in Cambodia.
Support She Rescue Home. Give shoes to everyone on your Christmas list without filling their closets. Or (GIFT IDEA #3) buy a copy of Linda's book, Inspired for Greater Things – all book sale proceeds are donated directly to Cambodian Care.
Happy Thanksgiving!
Carrie Koens joined the Weaving Influence team in May 2012 and has held a number of roles, including three years as the Book Launch Director (a title she stepped away from in June 2016 in order to focus on the needs of her growing family), and she currently serves the team as a Writer and Consultant. An INTJ with a penchant for culture, book stores, Parisian cafés, Indian curry, British mystery shows, and her passport, you can find her on Twitter @CGKoens.