Are you and your coworkers ready for Boss's Day?
If you plan to buy a card, make lunch reservations, or order flowers, get moving because the big day is Monday, October 17.
My Boss's Day Memory
One of my favorite keepsakes from my previous job is a boss's day card from the people I supervised. Ironically, shortly after I was given this card, I was laterally transferred to a position in which I did not supervise anyone.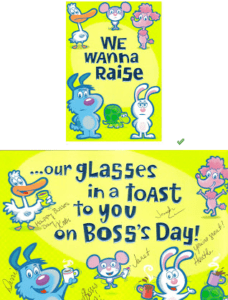 Although I still, seven years later, have not completely found closure with the end of that boss/subordinate relationship, Paul Larsen's book, Finding Your Voice as a Leader, with its V.O.I.C.E. model, gives me some ideas about how I might have been a more effective supervisor.
You Want Effective? Let Me Introduce You to Becky!
Note  …. all that content filled with my own self disclosure I wrote at the beginning of this post ….. everything before "You Want Effective? Let Me Introduce You to Becky!" was a bit of a disguise because I wasn't sure if our awesome Becky Robinson would be okay with a post that was all about her. But she is awesome and the intent of this is to be all about her, so here goes!
Paul Larsen, author of Finding Your Voice as a Leader, says in order to maximize your potential as a leader, you need to find your individual V-O-I-C-E, your unique brand. He is right! Becky models for us every day how to be true to yourself while also applying strong leadership principles.
Appreciating Becky's V-O-I-C-E as a leader:
Values
The "v" in this model stands for discovering your core values. Becky was encouraged by Mark Miller to define core values for Weaving Influence early on, and she took that advice to heart. Becky has worked in conjunction with the team to develop corporate values, refine them as necessary, and, most importantly, live them. With apologies for the poor screen shot, one of the first things we see when we sign in to Slack every day is this question: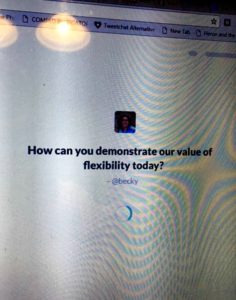 Ask any Weaving Influence team member, and you'll hear how Becky has encouraged us to embrace our core values of generosity, growth, responsiveness, integrity, partnership, and flexibility.
Outcomes
The "o" in the model has to do with a leader creating a compelling vision to obtain the outcomes they want. At Weaving Influence, the challenge with outcomes is that it would be easy to chase so many targets that we lose focus. As we have matured, Becky as a leader has sought to lead us all to serve well, with focus. While she is an astute businessperson, one of her most laudable qualities is the sheer joy she takes in creating opportunities for others.
Influence
The model's "i" stands for influence: building relationships with influence and credibility. I could make this a very short passage by pointing out that our name includes the word "influence," therefore we should consider ourselves covered. However, it must be said that credibility is part of the unique recipe that makes Becky our "head chef." Maybe she is just the kind of person who values credibility in general. Personally, I think the way she conducts herself has to do with the three lives she is molding as a mom.
Courage
The "c" in V.O.I.C.E. is for courage: making decisions that reveal your courage and confidence to take a stand. Four years ago, Becky wrote The Courage to Emerge: The Apple in the Orchard. In the post, she shared "at times on my leadership journey, I have felt like a solitary stubborn leaf, alone on a branch, isolated and buffeted by the winds, hanging on for life, with no protection from the elements."
Four years later, Weaving Influence is reaping the benefits of Becky's courage to risk that lonely branch. We are grateful for this example and the reminder that "we have the ability to give courage to others, even as we look to others to inspire us."
Expression
The "e" is for expression: communicating your overall expression for lasting impact. Although I am not present at the initial stages of Weaving Influence's negotiations with authors and thought leaders who want to partner with us, I have the privilege of being a part of helping them launch their books and services into the world as our work together progresses. The work we do, under Becky's leadership, is an expression of our commitment to our core values, but also helps clients make a lasting impact through cohesive messaging, professionally prepared graphics, and meticulous project management. Becky cares about her work, so she leads us to care about our work, and hopefully the final results demonstrate that.
Learn more about the V.O.I.C.E. model here.
And if there is a boss in your life who has made a difference for you in the way Becky has for me and all of us at the Weaving Influence team, consider adding something else to the cards/flowers/lunches … your voice, telling them how they made a difference for you. That will be their favorite gift of all.
Image: aliaksandra/Fotolia