Did you know that besides launching books and handling social media, we also create websites? This fall our talented web team had the privilege of working with Bill High on the design and creation of his new website. Once it was done, we felt like there needed to be some fanfare to let you know this was out there, so consider this a special "Fanfare" edition of Featured on Friday!
Bill has a great message and purpose: helping families craft a multi-generational vision for their families and assisting them in the development of plans for carrying out that vision.
On his new site, Bill shares that living a life of legacy is more than leaving behind financial assets:
It's about leaving behind your stories.
It's about leaving behind memories that last.
It's about leaving behind a set of values that future generations will continue to follow.
That's something that hits close to home for me as my parents celebrated their 55th wedding anniversary yesterday. The legacy that they have been building over the last 55 years is not something that will soon be forgotten by their 5 children or their 4 grandchildren. It's far more than what they leave in a will – it's about the stories that are shared over Sunday lunch, or the faith that they modeled for us throughout the course of their marriage.
If Bill's mission sounds like something you want to know more about, then stop reading this post (it's okay, I don't mind!) and go visit him at:
williamhigh.com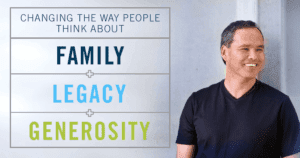 Leave a note on his blog and let him know we sent you!
Carrie Koens joined the Weaving Influence team in May 2012 and has held a number of roles, including three years as the Book Launch Director (a title she stepped away from in June 2016 in order to focus on the needs of her growing family), and she currently serves the team as a Writer and Consultant. An INTJ with a penchant for culture, book stores, Parisian cafés, Indian curry, British mystery shows, and her passport, you can find her on Twitter @CGKoens.