Today is Giving Tuesday, something that may be obvious from the stream of emails flooding your inbox soliciting donations. Giving Tuesday, explained on its website as "a global day of giving fueled by the power of social media and collaboration," is considered by many to be the kick-off of the charitable season. Celebrated on the Tuesday following Thanksgiving in the U.S., and following Black Friday and Cyber Monday, it is a way for participants to focus on others after so much emphasis on material goods and consumption.
As much as I love Giving Tuesday, I often find myself overwhelmed. There are so many worthy causes, and by the Tuesday after Thanksgiving I am already straining to find resources to pay for the other extras that our family's holiday celebration entails. As so many causes I love encourage me to give, and even proclaim that there are special matching fund opportunities on Giving Tuesday, I struggle to keep up fiscally and emotionally.
Perhaps I should walk a mile in the shoes of children in the Kratie province of Cambodia . . .
Last year, I was heavily invested emotionally in a Giving Tuesday effort. Giving Tuesday was presenting grants to applicants who submitted compelling stories. Semifinalists were chosen solely on the basis of "likes." My #GivingStory was about Linda Freeman's efforts to purchase enough pairs of The Shoe That Grows to give to the students at Light of Future Schools in Kratie Province, Cambodia. She needed approximately 600 pairs of shoes  — a $9,000 cost — so a donation of $5,000 would have been HUGE.
Thanks to so many people who banded together to "like" the entry, it came close to making the semi-finals, but not close enough. I'll be honest: I was really sad about this. I tend to believe, possibly naively, that if I just ask enough people, I can generate momentum for causes that I have chosen to espouse. I mean, how hard is it to click "like"?
However, other constituencies (animal causes, for example) had more "oomph" and, happily for them, went on to receive donations.
Meanwhile, children in Cambodia still needed The Shoes That Grow.
Why Giving Matters
I'll tell you how it turned out for Linda's team and the children in Cambodia, but first let's take a look at the concept of giving in general. Why do people give?
Besides the obvious fact that the needs in this world are disproportionately distributed (many people have a surplus of food and income, while many others are starving and unable to make a living wage), giving pays other dividends.
Richard Marker, writing for eJewish Philanthropy in Why Do We Give? Does It Matter?, shared some of the reasons people give, including:
Underlying Altruism
Ego
Assuaging Guilt
Public Recognition
Prestige
Tax Benefits
Legacy
Prudent Use of Personal Assets
I inevitably get more out of giving than the recipient does (that's how it feels at least). As an organization with generosity as a core value, we at Weaving Influence know that when we give more, we have more. And we don't just mean money.
How to Model Giving Behaviors
Whether at work, home, or in our social groups, each one of us has the opportunity to model how to give generously.
I have seen outstanding models of giving year after year on Giving Tuesday. Last year, for example, ORGANIZE applied creativity, organization, and the knowledge that "it's not just money that helps" to a campaign which registered thousands of Americans as organ donors. Giving Tuesday classifies their efforts as the biggest digital donor drive in U.S. history.
If you lead an organization, you can model giving behaviors by openly proclaiming that giving is a priority, both on Giving Tuesday and year round. People love to hear personal stories; confidentiality allowing, tell them the story of the family you helped, the free physical exams your money helped a rural clinic give, or the abandoned animals who now have homes because someone took the time to give money or resources.
If you are not currently a leader in an organization, don't discount your impact. As Keith Richardson writes in this moving essay, My Brush With Death Showed Me the Power of Small Actions, no one is so insignificant that they are unable to make a difference. Keith writes, "I pay attention to the difference I can make with my gestures, my words. Small things can make an entire life feel worthwhile."
If You Are Doing the Asking
I am not exaggerating one bit to say I have trouble asking people to give, even for causes I love dearly. It's easy to ask in writing (anyone can hit "delete" and move on) but harder, so much harder, to do in person.
Every time I find myself searching in vain for the courage to ask for funds or resources for an organization I love, I remember my friend Mary Jane — a Multiple Myeloma Survivor who is also a top fundraiser for Team in Training– telling me, "I just ask everyone." So simple. What does she have to lose? She has already stared down a life-threatening illness. How could a "no, I am not able to donate right now" ruin her outlook?
It helps to establish a relationship with someone before asking them to make a donation. The key here is that there is not a direct correlation between who you connect with and who agrees to give to your cause. Cast your relationship net wide and take a genuine interest in people, independent of their status as potential donors. It's glaringly obvious if you befriend someone and then hit them up for a donation two weeks later.
About Those Shoes For Kids in Cambodia
As I mentioned above, my #GivingStory campaign did not generate a donation to buy shoes for the children in Cambodia.
However, I was not alone. Linda's daughter-in-law, Daniella, requested donations to the project for her birthday.
Weaving Influence did a holiday campaign where for every mile run or walked by staff, a dollar was donated to the "shoes" effort.
A donor provided a matching grant of $3,000.
When Linda and her team visited Cambodia in August 2016, they provided 340 children with pairs of The Shoe that Grows. Because they were able to purchase 497 pairs of the 600-pair goal, all of the current enrollees at Light of Future schools got a pair of the shoes.
Looking back on the way events unfolded, I am reminded that while my efforts were a strong volley into the fundraising court, I was not playing that match all by myself. Linda was telling her networks. Daniella was sharing her birthday with the cause. Becky of Weaving Influence was encouraging us to run or walk and making sure every mile generated a donation.
This August, as pictures of the children wearing their new shoes scrolled onto my screen, I smiled, thrilled that the children were so happy. They benefited from so many people who cared about their health, physically and spiritually.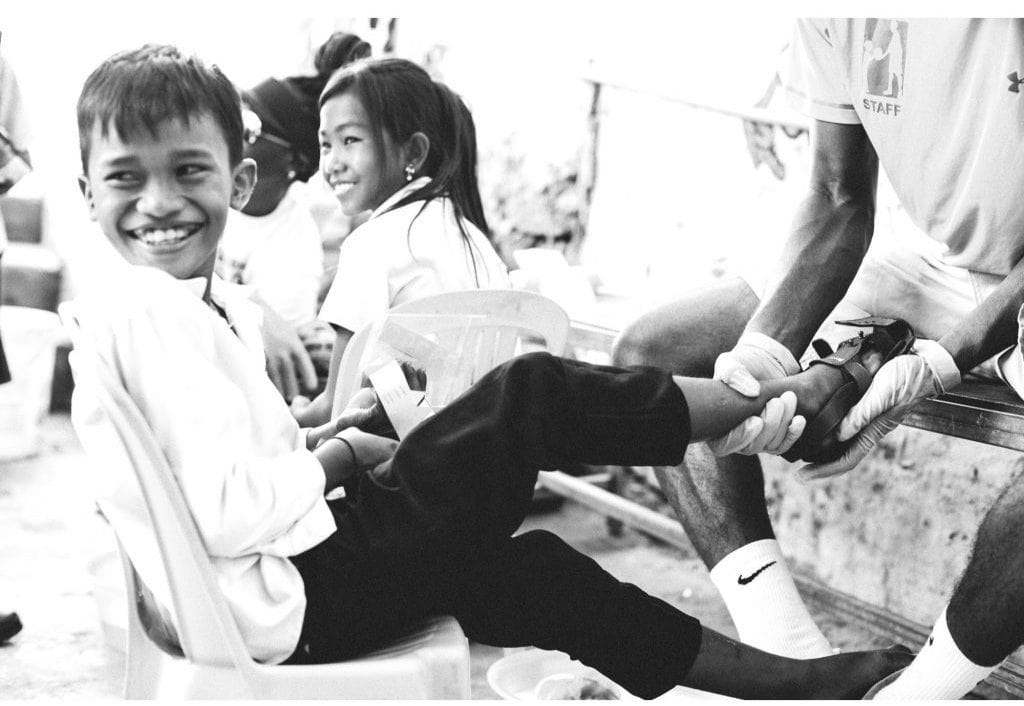 What didn't matter one iota to them, though, was when the money was given. Hundreds of children in Kratie province now have shoes on their feet and the benefit of a medical checkup that was part of the shoe acquisition process.
All independent of a hashtag or a specific day.
Give what you can today, but remember there are 364 other days of the year when your donations of time and money can make a difference.
Image Credit: Child in Cambodia: Gabriel Rivera, Courtesy of Linda Freeman
Logo Credit: GivingTuesday.Org