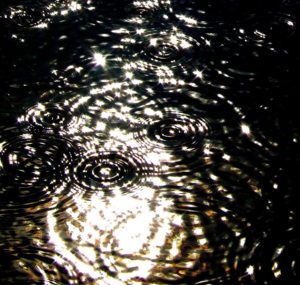 Early April and rain poured from the sky. I sat with my best friend's husband, Jason, in his car, waiting for the rain to let up a little. From where we sat, we could see huge puddles forming, a few brave souls walking toward the start line, dripping wet. Some wore garbage bags as raincoats.
For those few moments, we were still dry.
By the time the race started, the rain had mostly stopped, but we took off running with feet soaked to the skin.
I felt tired before I even started. I think (although I can't remember) that I had been up during the night with my two year old.
I knew (although I did not KNOW) that I was pregnant with my third child (a home pregnancy test would confirm it later that week.) In light of my pregnancy, I also knew this would be my last race for a while.
I knew that I had always wanted to run a race on Chicago's lakefront.
I knew the conditions were less than ideal.
I knew that I wanted to enjoy the race despite the rain, my wet feet, and the water dripping from my hair.
So, this is what I did: as I ran, I told myself that even though the race felt hard, it was nothing compared to two things, what I'd gone through before and what lay ahead.
This is nothing, I told myself, compared to the 8 months of pregnancy you have ahead of you. This is nothing, I told myself, compared to another C-section that awaits. This is nothing, compared to caring for a newborn. You think you feel tired now, I told myself — you will feel more tired than this, very soon.
I also raised my head so I could see the sun breaking through the clouds, diamonds of light reflecting off Lake Michigan. In the present moment, I had what I needed.
I told myself: you can do this, and you will be strong for what comes next.
As I passed the nine mile mark, I saw the familiar faces of my husband and two daughters. I heard them cheering me. I kept running, picking up my pace in that 10th mile.
In every difficult moment, it is likely true that you have gone through something even more difficult before (and survived.) It is also likely true that you will go through something more difficult in the future.
In those two truths are strength for the present, difficult moment.
Perhaps this seems counter intuitive to you, this idea of reflecting on hard moments in your past as encouragement in whatever difficulty you now face. Perhaps it seems counter intuitive to project that you will face even bigger difficulties in your future.
I ask you to reflect on both the past and what is ahead because in between those two places is perspective.
You are strong enough to endure this.
You have endured before, you will endure again, and you can endure now.
In this present moment, you have all that you need.
Tell me something! How do you find perspective during hard moments?