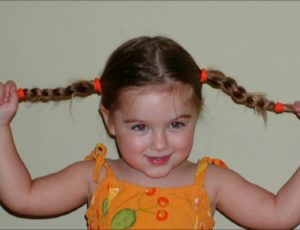 I'm driving in the car with my daughters. We're talking about our birthdays later this year. My oldest daughter will be turning ten just months after I turn forty. Our thirty year age gap makes it easy for all three of my girls to remember my age. "Cami is nine so you're thirty-nine."
I wonder what I'll be doing when I'm thirty, one of my daughters muses.
Maybe I'll be a wife and a mommy.
How old were you when you got married, Mommy?
How old were you when you had me, Mommy?
I want to be a Mommy when I'm thirty.
Maybe I'll be a teacher.
Maybe I'll be an artist.
Maybe I'll be a Mommy and an artist.
Maybe I'll work at home like you do, Mommy.
They're each shouting out their ideas, and I can't really distinguish their voices.
We've had this conversation before, though; they each have ideas, already, about what they want to do and be when they're grown up. At their young ages (9,6, and 4) they each have a view of what life can be. Their views are shaped by what they know, by what they've seen.
With that, they are limited in their view of what it means to be a grown-up woman. I have stayed home since my first daughter's birth. I only recently began a new career.
I work from home, in the hours before they are awake and throughout the day, as well. They see me cook meals, wash dishes, fold laundry. They play in my office, coloring at a table nearby, while I write. They complain if they think I spend too much time on my computer.
They know about other moms who work, vaguely, from classmates at school. They know about other moms who stay home.  As they grow, they will learn about other women and how they live, but I will always be their first example; they will adopt who I am and what I do without trying, whether I want them to or not.
This responsibility, this knowing that they look to me as their example and model: it's heavy. I want them to see possibilities beyond my choices.
Their ideas, I know, are destined to morph as they grow, but not much. I carried my little girl dreams to adulthood and they will, too.
A lull in our conversation. And my turn to talk:
Girls – you can be anything. You can be a mom and a wife. Maybe you'll want to stay single. Maybe you'll travel and work all around the world. You might work in an office, or be a doctor. Cami, I say — addressing my oldest — you could be a best-selling author when you're thirty.
She beams. I am facing forward but I can feel the change when I speak those words. The van is aglow. I turn my head briefly and I see it — the grin stretched across her face.
The unspoken words: that's what I want, Mom. I want to be a writer.
The moment passes, and we turn the corner toward the gym.
How long until we get there, Mom?
Are we going to be on time?
The girls move on, but I am stuck in the moment, realizing the magnitude of my little girl's dream, the joy she has in contemplating it, the power of my encouragement in her life.
In a few short months, my oldest daughter will mark a milestone birthday, a decade of life. These next ten years will influence the direction of her life as she grows into the woman she will become. It is my privilege to walk beside her during these next years, my life and choices an example to her.
As I do, I realize this truth: who I am as a woman is a work in progress. In my life and career, I have not arrived at the place of my little girl dreams. I don't need to, really, because my life, though different from my early imaginings, is real and rich.
I could not have pictured this home, this husband, the sweet faces of my trio of daughters, this work. Yet I there could be no better setting, cast of characters, and plot for my life.
Tell me something. Have you arrived at the place of your childhood dreams? What new dreams do you have for  you life? What choices are you making today to move toward your desired future?