On Sunday in my Use Everything post, I invited you to daydream about finding ways to use all of your gifts and talents. I mused about creating a blog about leadership and ice cream recipes.
For today, I am going to use this space to share my best ice cream recipe, just for fun.
I don't think, though, that using everything means using everything at once, or everything all in once place.
Instead, using everything means finding ways to leverage all that you have to make a positive difference in the lives of the people around you.
Like me, you may regularly exercise only a few of your strengths. I write. I tweet. I listen. I encourage. I help people make connections.
I also make ice cream, lots of it.
I've been making ice cream for about three years, since the Christmas I received an ice cream maker as a gift. Early on, I bought a cookbook and started experimenting with recipes. It didn't take long for me to settle on a basic recipe of my own creation.
Here's the ice cream I made yesterday for our family dinner.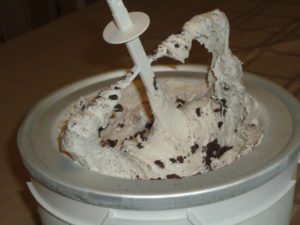 I use the same base every time, but I add various mix-ins each time to create our family's favorites. My husband often suggests wild flavors, but we stick to a few standbys: peanut butter cup, coffee Oreo caramel, and cheesecake. We also love any ice cream that involves chunks of homemade pie. (We don't often make this because — well — it requires that I also bake a homemade pie.)
Here's the basic recipe: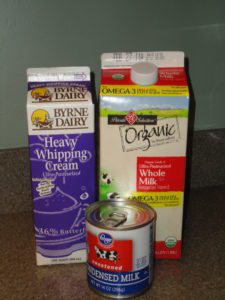 2 cups of heavy cream
1 cup of whole milk
1 can of sweetened condensed milk
We keep these ingredients on hand all the time, along with a warehouse store sized bottle of vanilla.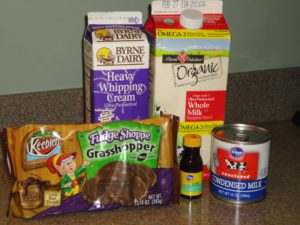 For last night's recipe, we decided to make Grasshopper. We added peppermint extract (to taste) and crushed Grasshopper cookies to the base. Everyone loved it, of course.
So, today, this recipe is my gift to you. Use it well and share your favorite variations of my recipe with me here in the comments.