How many words have been spoken to you in your lifetime? How many words have you said to other people? Impossible to count, right?
There are two words which stand out from the rest. They can be said by a boss, a co-worker, a friend, family member, acquaintance or stranger. What are these two words?
YOU MATTER.
How can these words make a difference?
They Make Us Want to Spread Joy
My daughter did the Disney College Program earlier this year. There are four keys inherent in how a Disney Cast Member serves: Safety, Courtesy, Show, and Capacity.
When a College Program participant went out of her way to soothe a young guest's distress and turn the situation around into a more magical one, none other than the President of the Walt Disney World Resorts recognized her efforts.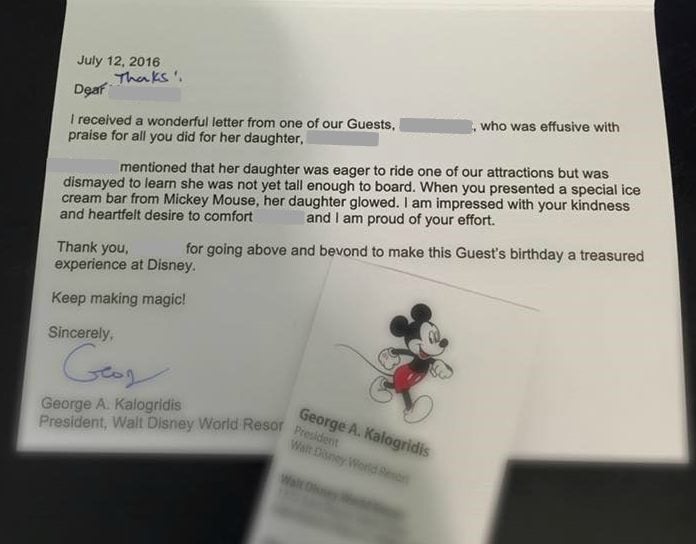 The Disney College Program trains the participants to apply the four keys all the time. Recognition such as the type I've shared here is an "extra."
But how much do you think this extra acknowledgement said "You matter" to the College Program participant? AND she received such special recognition because she made one little girl feel that she mattered. And in doing so, the child's parents felt that their family mattered.
My daughter shared with me an anecdote about a time she had a truly magical interaction with a guest. The guest didn't share that feedback with management. While that would have been a fun "extra," I heard in my daughter's voice, as she told it, pride in thinking in advance of a way she could make magic at work that night, of how she waited until just the right moment arose, about how she tuned in to the guest's comments and proceeded to do something that told them they mattered. A "you matter" moment lives on, even if only the people involved in the exchange know it happened. It fortifies one more vulnerable area in someone's psyche and may be just the impetus for them to make someone else along the line feel they matter too.
This November, You Can Be Part of a Marathon of Kindness
As we mentioned in our last post, you can be part of the You Matter Marathon.
You can join more than 6000 people in 26 countries who are committing to tell someone "you matter," and back it up with a You Matter card, each day in November. Currently, organizers anticipate the number of You Matter cards distributed to surpass 100,000! That's a lot of magic!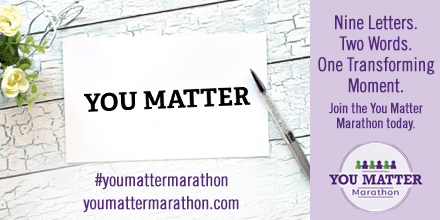 Marathon "Prep"
The good news is the You Matter Marathon doesn't involve even a single step of running. But just as a runner trains in advance of their event in order to be prepared, we encourage you to prepare as well!
Think About Who You Will Give To.
If  nothing else, thinking about the people who matter to you will put you in a great mood!
If you are a parent, think about how the You Matter Marathon might be incorporated into your family's November plans, perhaps as a new ritual.
If you are an educator, consider the possibilities of a You Matter Marathon taking place among your students.
If you are in a leadership or programming role in a community or religious group, ponder whether or not the entire group might love being part of the You Matter Marathon.
If your business wants a unique way to help people know they matter (Hello?! They do!), think about lining up at the figurative "start line" of this running-free yet very worthy race!
Think About the Realities of Spreading the You Matter Message.
As caregiver for my father-in-law, I will be the first to admit that sometimes the people we most need to tell "you matter" are the hardest ones to approach. Although saying "you matter" to my father-in-law, who will forget within five minutes that I said that, may be a sentiment that quite literally disappears from his head almost as soon as the words leave my mouth, is there a way as part of how I handle my responsibilities to him each day that displays just a little more compassion and a lot less sarcasm? That says "you matter" as much as the You Matter card will.
In addition, participating in an event like the You Matter Marathon demands that we devote time to our fellow human beings. Yeah, I know …. in a perfect world we would all be generous with our time and resources. I loved a story I read in Worth Mentioning recently about a grocery store cashier who was deliberately patient with an elderly customer, even though the line was backing up at his register. Thinking about his patience, she wrote: "So visibly relieved was the woman, I wondered how often she encountered the tired tone, the show of impatience, the sigh of inconvenience that so many busy people use with others who don't move fast enough to please them. When my friend thanked him for his patience, he told her, 'It's easier for me to be patient than it was for her to get that done with people staring at her,' he said. 'Also I am a youth counselor with teenagers. You can deal with anyone after that.'"
The cashier mastered the difficult art of "dealing with anyone." Is there an "anyone" in your life who needs to be told "you matter"?
You have 30 days in which to find that someone, tell them "you matter," and pave the way for magic to rule the day.
How to Participate in the You Matter Marathon
Sign up by clicking here.
Follow the You Matter Marathon via creator Cheryl Rice on Twitter here.
Follow the You Matter Marathon via creator Cheryl Rice on Facebook here.
I can't wait to find 30 people in my world who deserve to hear "You Matter." Join me?