School starts in two days.
At the beginning of the summer, the girls and I made a list of the fun things we wanted to do during their break from school.
They wanted to swim a lot, have lots of friends over, go to the library regularly, and go to a waterpark. They wanted to paint. The little girls wanted to have our neighbor and their closest pal, Macy, over — lots.
I am happy to report that Macy spent time here at nearly every opportunity. We painted, swam, and read lots of library books. We went to one indoor waterpark and we went to a nearby outdoor waterpark (twice.)
It's been a good summer.
One of the coolest things the girls did this summer started at the initiation of one of their sitters, Elizabeth.
One muggy afternoon, she arrived with purple Mylar balloons.
Earlier in the summer, she and the girls had made messages in bottles and released them into our creek (and out to sea?). Disappointed at the lack of response to their notes, the girls decided to write notes, attach them to the balloons in ziploc sandwich bags to protect the notes from the elements, and send them off to wherever the wind would carry them.
My middle daughter, Natalie, decided to include her note with Elizabeth's. They put their two notes in a bag together and all four girls walked to the end of our driveway.
They lifted their arms and watched the sky until the balloons looked like purple birds and then flew from sight.
A few weeks later, Elizabeth and Natalie received a letter from Louann in Lewisburg, PA.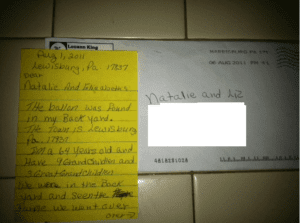 Louann found the balloon and note in her backyard. She said that finding it brightened her evening and she wrote back to them quickly.
Lewisburg, PA is about 400 miles due east of here. I have no idea how long it took the balloon to travel there, or how long it drifted before it landed in Louann's backyard.
I do know that the balloon project encouraged more than Louann.
When the girls received her letter, all four smiled, shouted, and jumped around with excitement… including Elizabeth, who is thirteen.
We're still waiting for Louann's response to the girls' reply, and for replies to the notes on the other three balloons and the messages in the bottles.
When I think of the summer of 2011, I will remember purple balloons, the girls' smiles, and a letter from Pennsylvania.