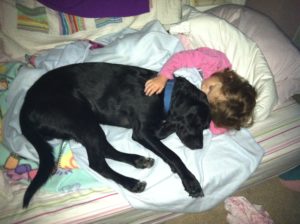 A couple of weeks ago, my husband called me during the work day to ask if I'd be willing to dog-sit for a week. He knew the responsibility would (mainly) fall on me, since I'm the one home in the daytime.
The question surprised me; we've been united in our belief that our family is complete without a furry pet — without any pet.
It's not that we don't enjoy animals; before kids, we had Bronte. We adored Bronte, despite his penchant for swallowing socks and chewing up shoes. We loved him, even while vacuuming his hair off every surface in our home. Our feeling about dogs: at this stage in our lives, the costs outweigh the benefits.
I have more than enough to take care of with our three growing daughters, our home, a job, and a business on the side.
Except, I heard myself say yes to dog-sitting, because I knew how happy it would make our daughters, especially Natalie.
Natalie's been asking for a pet for months. I predicted — correctly — how much she would enjoy having a dog for a week. What I didn't expect was how quickly this dog would find his way into my lap (and my heart), melting my previous resolve that we. would. not. get. a. dog.
So, Newman's been with us since Wednesday night. The girls are fighting over who gets to sleep with him. When the girls are at school, he sits faithfully by my desk while I work.
He's loving and lovable, and I'm glad I said yes to a dog for a week.
I'm just sad we have to give him back.
Thanksgiving is almost here. This Thanksgiving week, I am celebrating "A Week of Thanks," and I am dedicating 12 minutes each day to expressing my appreciation to my online contacts. Thank you for reading my words in this space. I would love it if you joined me for a "A Week of Thanks." You can find out more here.