This thankful for project has been fun. I find myself, during the week, adding items for this post, mentally, as they happen. This week's edition could be called the Water Park edition… almost.
Here's the list. I am thankful for:
11. Our local water park. Wednesday, I spent the day with my girls and their friends at a local water park — about 30 minutes away. It's not fancy, but it's clean and it has all the main things you hope to find at a water park: a wave pool, a lazy river, some water slides. It all makes for a fun day, and it's our tradition to go at least once a summer.
12. A little one who still wants to ride the tube slide with me. Maggie is tall enough to ride alone, but she still wanted to ride the tube slide with me, snuggled close.
13. A little one is brave enough to go it alone. After several trips down the tube slide with me, Maggie decided to do the body slide alone. She joined her sister and friends to do a (seemingly) endless loop. A walk up the steps to the top of the slide, down the slide, and back up again, while I sat in a nearby chair and watched, relaxing and remembering visits to the water park with toddlers. If you've visited a water park with a toddler, you know that sitting is not part of the deal.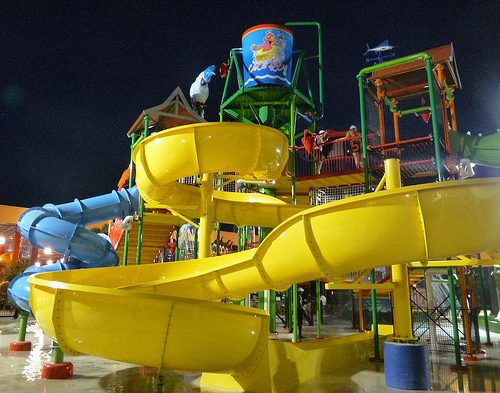 14. Water parks in general. I have always loved water parks. I spent the summer after my freshman year of college in Branson, Missouri. I bought a season pass to the water park and spent as much time there as I could on days off work. I love the sunshine, the water, and the slides. (I'm not a coaster girl, so water slides are about as adventurous as I get.)
(change in topic)
15. Your Support throughout the Twitter Tips E-book promotion. I am grateful to all of you who have shared and tweeted over the past month. We've given away over 600 copies of the ebook. I hope the e-book will make a big difference for people in understanding the value of Twitter in their lives and businesses. Today is the LAST DAY to download it for free. If you haven't already, I hope you will download it today and share the link for the download with your friends, colleagues, and family.
16. Flexibility. I hoped to have our Kindle version of the ebook ready to go on September 1st. Due to a few technical issues, we are pushing it back by a few days. And you know what? I'm okay with that. I'm thankful that I can set goals and be flexible.
17. @BKneuer. Bruce responded to a tweet from me earlier this week. The tweet led to a phone call in which he told me a really cool story about how a tweet made a big difference in his daughter's life. I hope to share that story with you very soon. Thanks, Bruce!
 Tell me something! What are you thankful for this week?