These dark mornings of fall.
I've written about it recently. I look at my window, and all I can see is my sleepy self reflected back. The days are shorter, the mornings later, the mornings darker, no sign of a break of light.
I get up early, at a time it should always be dark.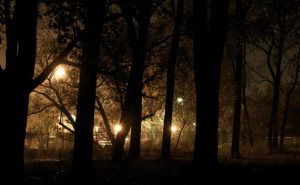 By 6 am, my daughters are awake, too, not always happily. When we head downstairs for breakfast, it is still very dark.
My oldest daughter gets on the bus in the dark, before 7 am.
I drive my girls to school at 7:20. By then, we can see day breaking. One day last week, the sky looked tie-dyed, pink and purple. Then the next day, we saw a glorious stripe of gold.
Despite the darkness, I know the sun will rise, in glory, every day.
I'm grateful for that.
But how do you cope when you are not living in literal darkness, but the metaphorical kind?
When we deal with dark fall mornings, we know it is temporary. It's dark in this hour, in this season.
But what happens when your life seems to have gone dark, and all you can see is your own sad reflection. What do you do when you lack the hope that the sun will rise — things will get better?
There are times when we have hope beyond hope, hope that doesn't make sense, and joy that transcends our circumstances.
Over the weekend, some dear friends visited. We've known them since 2002. When we met, they were fairly newly married and starting a new church in a city neighborhood. We joined them in their church growing efforts. We celebrated as they added first one child, then another, and finally, a third to their family. When they moved to the suburbs to lead another church, we stayed in the city, sad to see them go.
Around the time their third child was born, they began to face some serious challenges. The husband began experiencing debilitating pain. He had multiple surgeries, countless tests, and few helpful answers or treatments.
Through it all, he has continued on: leading his church, leading his family, working on his doctorate.
Through these past years, through the pain, my friend may have felt like he was in the dark; there may have been days when all he could see was his own pain, a scarred reflection. But he has not been without hope.
I'm grateful for that.