This guest post comes from Angie Butcher. Angie Butcher is a techy who is learning the ways of social media at Weaving Inlfluence.  After a degree in Computer Science and a career in I.T., she decided to take a break and have 3 beautiful girls. She recently decided to push herself physically by running her first ever half marathon. She also enjoys gardening, swimming, running, sunshine and coffee. You can find Angie on twitter at @fab_angie.
There are two kinds of dreams – the kind of where you imagine what you could do or be and the kind that come upon you while you are sleeping.  Why do we use the same word for both?  They are completely different from each other.  One I choose very consciously and the other is out of my control entirely.
My sleeping dreams are generally a reflection of my fears.  I dream about my children being hurt and I can't help them, being lost or not being able to speak or see clearly.
My goal dreams, the things I hope for, have been clear. I have lived for myself – always.  I need to be comfortable, loved, encouraged.  I need to feel ok in my own skin. My dream or perhaps more accurately, my goal has been to be content.  A content wife, mother and follower. This goal seems good but feels empty.  A new dream needed to be defined.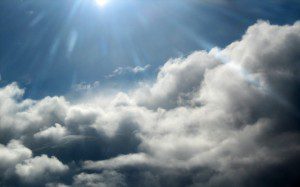 I never imagined I could live for others, that I could focus on giving to others first.  What will my life mean if I always look out for myself first?  How many lives will be affected by that choice?  Probably a few, but not enough.  This year I have been defining new dreams for myself – new goals to live by.  I must find ways to give more and take less.  I must take the focus off myself and my abundant life and find those who are needing, suffering and lost.
That would require sacrifice, selflessness, perhaps even hurt.  And to choose that would be crazy, right?
But, this would bring the two types of dreams together.  I would tackle that great fear that appears to me as I sleep.  I could rescue the lost, I could protect children, I could see and speak clearly as I bring light into the darkness.
Of myself I can do nothing, only through Him who gives me life and love and strength.
This post is written in honor of the continuing celebration of dreams sparked by Whitney Johnsons new book, Dare, Dream, Do: Remarkable Things Happen When You Dare to Dream.
Angie Butcher is a techy who is learning the ways of social media at Weaving Inlfluence.  After a degree in Computer Science and a career in I.T., she decided to take a break and have 3 beautiful girls. She recently decided to push herself physically by running her first ever half marathon. She also enjoys gardening, swimming, running, sunshine and coffee. You can find Angie on twitter at @fab_angie