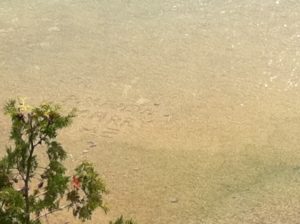 When I returned from my vacation, I wrote about some lessons from my disconnected days. If you missed it, you can read that post here. While away, I exchanged text messages with Jennifer Miller, a friend I have known through social media for a couple of years. Though we live in the same state, we have not yet met in person. When we discovered that we would be vacationing in the same place at the same time, we tried to make a connection face to face, but our wanderings sent us in different directions. Today, Jennifer published an excellent post about the lessons and perspective she gained from a day spent on historic Mackinac Island at her blog, the People Equation. I hope you'll check out her post, too.
We meandered up the hill to Fort Mackinac, stopping to catch our breath along the way.
Then we followed the signs through the woods to another fort, the highest point of the island. From there we continued onto the lookout at Arch Rock.
As we peered over to the water, we could see words and pictures beneath the water's glassy surface.
From this vantage point, my daughter read "Amanda, marry me?" A few feet away, the word "Smile." 146 feet above the water, we could see the messages clearly.
Later, while our family biked the perimeter of the island, we arrived at the same spot. We looked up at the people above us on the rocks. We looked out into the water, looking for the messages we had seen before. From the waters' edge, all we could see is rocks. Multicolored rocks, various shapes and sizes. Rocks, just rocks.
Those 146 feet made such a difference in our perception.
I wonder:
What do I miss because I am standing too close?
What perspective could I gain from looking at life from a higher vantage point?
How hard am I willing to work to find that new perspective? (The hike to Arch Rock is quite difficult. If you walk from the water's edge, the path is along steep stairs along the side of the cliff. The path we took covered several miles, less treacherous but still tiring for my little ones.)
What will it take for me to see more than rocks?