In this season of thankfulness, here are some thoughts to help you meditate on and practice gratitude—not just this week, but throughout the whole year.
"The man who forgets to be thankful has fallen asleep in life." — Robert Louis Stevenson
"Gratitude is recognizing, valuing, appreciating, celebrating, sharing, and cherishing what life brings me, in every moment." – Becky R
"It's a gentle reminder that what we need is not more, but instead to seek joy and peace in what we've been given." – Kelly E
"Gratitude unlocks the fullness of life. It turns what we have into enough, and more." — Melody Beattie
"Acknowledging what I already have helps me maintain a healthy perspective when I'm inclined to look longingly (or jealously) towards those things that are out of my grasp. I choose to publicly count my blessings by using my personal Facebook account as a digital journal to track what #iamthankful for each day. Bonus: Facebook Memories remind me of past blessings, and help me focus on how far God has brought me." – Carrie K
"I urge you to please notice when you are happy, and exclaim or murmur or think at some point, 'If this isn't nice, I don't know what is.'" —Kurt Vonnegut
"Gratitude means that despite the things in my life that I wish were better, I am still able to recognize and deeply appreciate the things in my life that I absolutely cannot (and should not) take for granted, and I see the value in them here and now. It is about looking at my life through an objective lens, and recognizing the enormous privilege I have, recognizing the opportunity I have in front of me, and seizing the day. If I let any number of 'bad' things bog me down, then I start to lose sight of the gifts I've been given, or fail to see I even have them. So, I do everything I can to make sure I am always trying my best to recognize what a gift I've been given, and make sure I'm on track to live up to the potential I have, and appreciate and love the people in my life who love and support me, and be better not just for myself, but for those I interact with, and be of value an in service to others as best as possible." – Mike D
"In all things, give thanks." — Apostle Paul
"When my parents died, I struggled if I could thank God, even in that. Deep down, I knew that if I could find something to be thankful for in that devastating heartache, that my life would change and it would always be possible to find the good in ALL things." – Karin T
"Gratitude is my secret weapon when times get hard. When sadness, disappointment, or rejection rises up instead of letting myself be swallowed, I think about every little thing. I have so much: a husband who loves me, despite my flaws, children who are honestly such good kids, a home, with heat and a roof, a fridge that has never been empty, the ability to run and so much more. There is no trial or struggle that is stronger than being content in the moment and knowing that everything I do have is so much more than I deserve or could have ever wanted." – Jennifer K
"Feeling gratitude and not expressing it is like wrapping a present and not giving it." — William Arthur Ward
"Gratitude is thanks in action. It is the choice to recognize the blessings in every single moment, despite what circumstances I find myself in. There is always something to be thankful for, and it is always the right time to express it. One way my family loves to express gratitude is at dinner time. We have a bowl on our kitchen table that is full of gratitude questions. We each draw one, and we each answer the question on the paper about something we are grateful for. It's a simple, yet practical way to express gratitude, and to teach our daughter why that is important." – Lindsey V
"The thankful receiver bears a plentiful harvest." — William Blake
"Gratitude is about looking for all the small things that you have in your life and a way to remember that those little things encourage you to be more positive and see the good in everything. As a daily practice, I begin each morning by writing down 5 things I'm grateful for, 10 goals I want to make happen, and 5 manifestations I want to see in my life.  For the gratitude piece, it truly is something small that can often be overlooked. I write something as simple as, 'I am grateful for the extra hugs Emilia gave me before bed last night.' The gratitude piece of this practice is a good reminder, as I write down the dreams and manifestations, that while I'm always reaching for a better version of myself and my life, what I have right in front of me is pretty incredible, too." – Erica H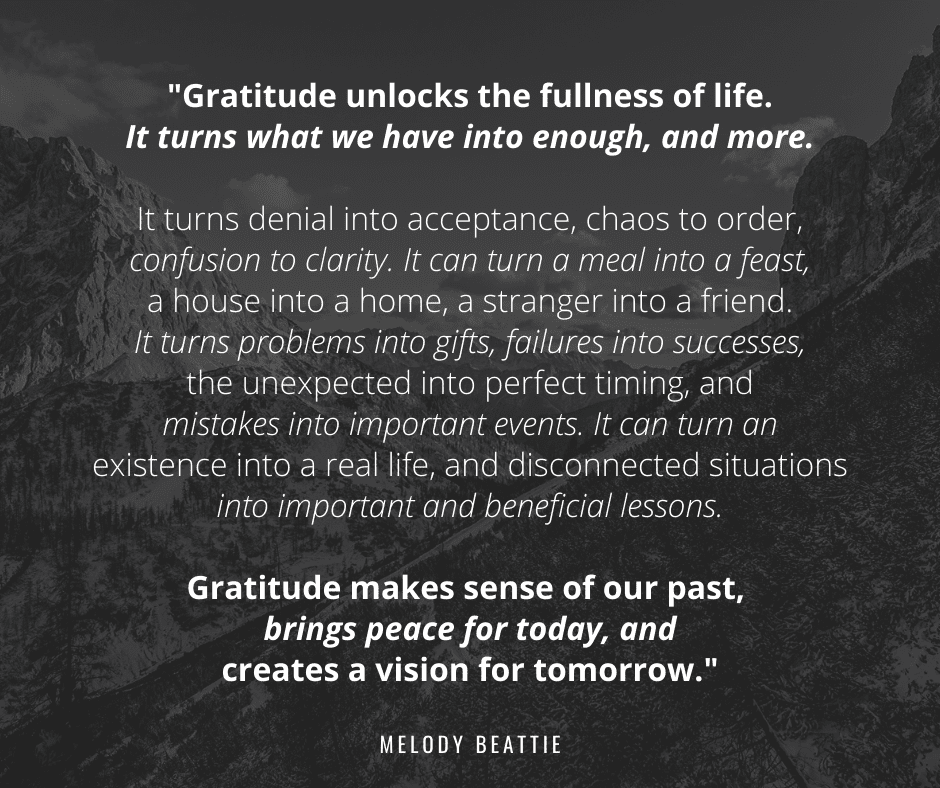 What does gratitude mean to you? How do you practice it regularly?