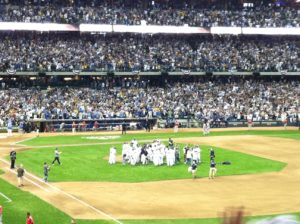 I picture him at eleven years old, brown hair sticking out from his ball cap, watching baseball on TV on a spring afternoon. He's sitting on the edge of his seat. When a play goes well, he whoops. But when a player strikes out, he takes off his cap and throws it, hard, on the floor.
My husband started following the Brewers in the glory days with Robin Yount in the early 80s and he could, then, as he can, now, recount all the statistics that equaled Yount's greatness as a player. He's been a Brewers fan through all the lean years since then, never wavering from his fervor for the team.
He's not a blue and gold body paint on game days kind of fan.
He's not a name-my-kids for my favorite players kind of fan.
He's not a tattoo on the calf kind of fan or a get a second mortgage to pay for tickets kind of fan.
He's the kind of fan who searches ebay for game worn apparel. He has a corner for his Brewers gear in our basement. He's attended a few games in Miller Park over the years.
When he can, he watches televised games, wearing one of his game-worn caps.
After the Brewers lost game four to the Diamondbacks, we went online to buy some tickets so we could watch the game five in person.
Friday night, I sat beside him during a game that had us on our feet more than sitting. We cheered and clapped, and when the Diamondbacks tied the game in the 8th inning, my husband took off his cap and slapped it on the back of the seat in front of him. He exchanged texts with a friend, lamenting that he'd rather be watching a blowout victory.
When the game ended with a walk-off hit by Morgan in the tenth inning, we exchanged high fives with total strangers, screamed at the top of our lungs, and watched confetti fall around us.
So sweet the hard-fought victory, especially for a life-long fan.
Later, we sat in the hotel bar watching another game and Robin Yount walked past. From where we sat, we could see Yount share a beer with his friends, watch him talk and laugh. Only about twenty feet separated us from my husband's boyhood hero.
I tried to convince my him to approach Yount, to get an autograph or pose for a picture. After all, he's followed Yount's career faithfully; he became a lifelong fan of the Brewers in large part because of Yount.
Instead, we watched Robin Yount exit the bar after a short time. We looked for him around the hotel yesterday but didn't see him again.
It's enough that we watched the Brewers' victory in person, enough to say we stayed in the same hotel as Robin Yount.
We'll save the body paint for the World Series.