This post is a part of our 2016 Team Buzz Builder Guest Blogger Series. Today we are pleased to introduce you to Linda Stout, critically-acclaimed author and Executive Director of Spirit in Action.
Whether or not we're actively engaged with social justice work, most of us know what's wrong with our world. Yet often we don't know what kind of world we want instead. Many are exploring questions of equity and social justice by working to build alternative models. But there are absolutely no organizers (myself included) who have all the answers.
The current way social justice organizations work to create change in the world is not enough. tweet this
We must continue to learn new ways of doing things, leave behind models that aren't working, and keep exploring with each other how we can become stronger than the sum of our parts. We must take time to work collaboratively, be bold, and try new and sometimes scary things. Our real strength lies in creating solutions collectively.
My favorite saying is, "I'm ready to jump off the cliff without a parachute, and learn to fly on the way down!" This takes courage and the willingness to know that sometimes you will crash. But when you fly, you can reach new levels that you never believed possible.
How do we begin to take this scary step? How do we have the nerve to do it? We jump off the cliff together, holding hands, trusting each other fully not to let go.
We learn to fly together.
It's not as hard as it sounds. You become a "we" and not an "I." Each one of us brings a different piece of knowledge, brilliance, experience – and all of it is needed. We have different experience, education, skills, understanding, etc., but the truth is we have to value all of our experiences and knowledge to create a sustainable, winning movement for change.
Together we can figure it out. We can ask strategic questions and begin to dream. What would a just and sustainable world look like? How would a fair and equitable economic system take shape?
We can create a collective vision that is inclusive, where everyone contributes to create the solutions that will work for all of us. 
It takes into account each person's ideas, and brings us together across our differences to articulate what we're standing for. This is the essence of collective visioning.
Collective visioning is a simple process. Sometimes I ask people to imagine they have traveled in a time machine to the future. I ask them to see the future of their dreams; to think of a child now, experiencing the world as an adult; to focus on the world they want to create in 10 years, 20 years, or even 50 years. In a sustainable, just society, I ask them what community life would look like, feel like, and sounds like. In silence, each person has an opportunity to experience it as though it were real. We then bring all their ideas together through art. We create a shared, concrete picture of what's most important to us.
Let's begin asking ourselves the positive and strategic questions we need to ask in order to move forward and find the answers together.
We can work from a place of hope to create a more just and equitable tomorrow. My hope is that all of our amazing energy can bring us together to begin to explore these questions and co-create solutions.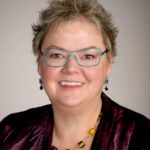 Linda Stout is a 13th generation Quaker born to a tenant-farming family in the Piedmont region of North Carolina. She began her mission for social change in the 1970s in North Carolina and started her first organization, the Piedmont Peace Project, in 1985. Currently, Linda is the Executive Director of Spirit in Action. She is the author of a critically-acclaimed book, Bridging the Class Divide (Beacon Press, 1997), and Collective Visioning (Berrett Koehler, 2011). You can also find Linda on Facebook or Twitter.
Image credit: artistlike