Talent Development. It's moved beyond being a buzz phrase and become something that companies must focus on in order to survive in the 21st century. Talent development executives are being tasked with developing the next generation, opening doors to the C-suite, and ensuring that corporations are poised for long-term success by investing internally into their people.
Internal talent investment is a very positive move – one that we support here at Weaving Influence – and one that more companies and C-suite execs are getting on board with as the benefits are recognized. So if you're excited about developing the next generation, but you're stuck on finding resources that you can share, you're going to enjoy today's post!
It Started with ATD
Most of you reading this are probably well acquainted with ATD (formerly known as the American Society for Training & Development – or ASTD), but for those of you who might not be familiar with them, here's the quick version. The Association for Talent Development (ATD) is a professional membership organization supporting those who develop the knowledge and skills of employees in organizations around the world. They provide content (research, books, events, etc.) for the talent development profession, and NOW… they provide something more.
CTDO: an App-Based Magazine Unlike Anything You've Experienced
From the Website: C-suite executives require content and resources that are keenly focused on the strategic and the long view—the questions, trends, and ideas that are going to shape the field and by extension the work that happens in organizations. CTDO delivers. This magazine is for chief talent development officers and other C-suite leaders whose responsibility includes leading the talent development efforts in their organizations. Read quarterly issues online or in the ATD Publications app.
Subscribe now

to receive full access to

CTDO

in the app – it's totally FREE to subscribe.

Or you can 

preview

 a full issue online.

Follow them on Twitter –

@CTDOmag

 – for additional links and information.

Use the hashtag

#CTDOmag

to see what others are saying about this new resource.

Invite your friends to subscribe before the Spring 2016 Issue comes out next Tuesday!
Come back later this month to see what our Team Buzz Builders have to say about this resource!
Ready to sign up now? Visit…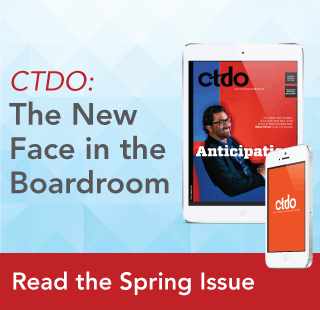 Make spring a season of developing talent – your own, and others!
Carrie Koens joined the Weaving Influence team in May 2012 and has held a number of roles, including three years as the Book Launch Director (a title she stepped away from in June 2016 in order to focus on the needs of her growing family), and she currently serves the team as a Writer and Consultant. An INTJ with a penchant for culture, book stores, Parisian cafés, Indian curry, British mystery shows, and her passport, you can find her on Twitter @CGKoens.