Our team is a great hybrid of virtual and local. In the beginning of my company, I hired mostly remote team members and enjoyed the flexibility of finding the right person for each role; without the limit of geography, I could hire anyone.
As the company grew and leased office space, I began to rely on and value in-person, instant collaboration and moved toward hiring more local staff. At times, this felt difficult. I didn't feel convinced that I could find the talent I wanted in our small-town market.
Earlier this spring, as we sought to expand our local office team, we interviewed a lot of people who didn't quite fit. Later in the process, we met a fantastic candidate. A recent college grad, Sierra jumped right into our office team, quickly contributing to several key areas. Had I been inflexible, I wouldn't have offered her the office position at all as she revealed, during the interview process, a plan to move to California soon with her fiancé.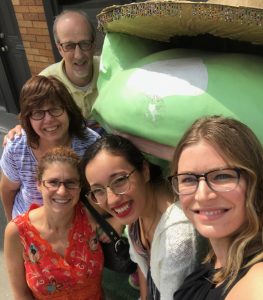 Because flexibility is a core value, we did offer Sierra a position despite her planned move. As a result, we benefited from months of fantastic in-person collaboration with Sierra and we will now continue to thrive with new California-based team member.
If you are a small business owner struggling to find the right talent, consider the possibilities associated with incorporating more flexibility in your hiring processes. Ask yourself the following questions:
What am I hoping to achieve with my upcoming hire? If you are clear about the job you are hiring someone to do, it will be easier for you to be flexible about how the job gets done. Had I been hiring a person to manage our shipping department, I would not have been able to be flexible about the person's geographical location.
What are the non-negotiables for this position? Once you know the non-negotiables, you can make a list about what is negotiable. You may find that geography, work hours, and even full time vs. part-time status are all considerations you can become flexible about in order to add stellar talent to your team.
What will I gain if I say yes? If the person you're interviewing seems like a great culture and skills match, becoming flexible about details may be the right answer. Just be sure any non-negotiables are clearly stated and agreeable to the person you're hiring. For me, having time to train Sierra in person before she moved away seemed to be an important request.
Our team went out last week to wish Sierra well as she heads to California for her new adventure. The best news of all is that we will continue to collaborate with her once she settles in AND those of us in the office have had months to enjoy her physical presence. I'm happy I applied our value of flexibility to hiring.
How do you practice flexibility in your business?