This post is part of our 2016 Team Buzz Builder Guest Blogger series. Today we are pleased to introduce you to Juan Arroyo.
This one is a lesson in story form.
In February 2015, I was getting certified as a John Maxwell Team coach, speaker and trainer. Everything was going well until Paul took the stage and said: "Suspend the requirement of knowing how."
As soon as I heard it, my brain gave me the blue screen of death: "DOES NOT COMPUTE!"
I was born and raised to have a plan and be prepared for everything, because there's always a formula or process to follow in order to get it right.
I have to admit, I was somewhat angry at Paul, because he was challenging my deeply held beliefs.
Notwithstanding, time passed and I forgot about Paul's words.
Fast forward to one year later, February 2016.
I'm in Paraguay with 260 other coaches looking to make a difference under one simple motto: "We are going to some place, at some time, to meet someone, and do something."
So, I'm there excited and afraid. We are all in a room getting to know each other when Paul takes the stage to give an impromptu announcement: "We need 13 Spanish speaking coaches to travel overnight to unscheduled destinations, please come forward for a debrief!"
Without thinking about it, I stood up and walked to the front with determination. Yet, I couldn't ignore the voice in the back of my head saying, "What in the world are you thinking, Juan!"
At any rate, I did it. I traveled 4 hours by car to work with a cooperative formed by families of German descent. Go figure, my very first time training and I end up delivering it to people that have Spanish as their second language!
With that adventure finished, I got back the Asunción to continue with the "scheduled programming."
The way it worked was this: you ate breakfast, you got in line, and someone came to pick you up and take you some place, at some time, to meet someone, and do something.
This time around, I got to visit the Paraguayan consulate.
As you may expect, things didn't go as planned. We took materials for a half-day session and we quickly found out we were going to be there all day. In the middle of the confusion, I somehow ended up leading the group and organizing the entire engagement.
In fact, I connected so well with the organizer, Diego, that I ended up telling him, "I don't know how I'm going to do it, but I'll come back tomorrow."
Not only did I go back, but thanks to my connection with Diego and his staff, they gave me the opportunity to train their executive team, including a congresswoman.
What a great experience and story to tell. I was part of the start of a movement that trained close to 19,000 people in 4 days.
But you want to know what's the most amazing about it?
It wasn't until I was flying back to the US that I realized the only thing that made it possible was my willingness to suspend the requirement of knowing how.
What's the lesson? Don't let the need to know how to do something stop you from living a life of significance.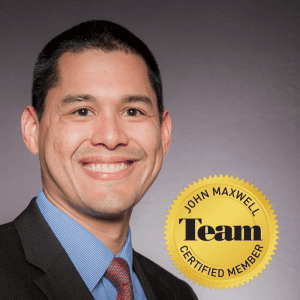 Juan Arroyo wakes up every day looking for the questions that allow an individual to break through a self-limiting belief and become the best version of oneself. He'd love to connect with you and help you reach a higher level of awareness through his blog, or via twitter.
Image credit: geralt