As a young US diplomat working in Switzerland, Sandra Taylor experienced her wine "epiphany" while visiting wineries in the nearby Burgundy region of France. Not being very educated about wines at the time, except enjoying the wines she tasted at diplomatic dinners, she was excited to explore this region with her colleagues who were experienced wine lovers.
Her first discovery was the warm welcome they received from the owners of small vineyards and wine makers as they toured wineries: "Each day ended with a delicious dinner, starting with champagne as aperitif and a different wine with each course, often-older vintages of the wines we had tasted throughout the day. They tasted so differently with the food!"
Since then, Sandra's wine travels and studies have allowed her to get to know the geography, geology, and distinct grapes and tastes of wines from different regions.
"I have often fallen in love with the tantalizing mix of culture and cuisine – the food, the wine, coffee and tea — that are integral to a country's identity. And I learned that for wine, it's all about the grapes."
Meet Sandra Taylor
As an internationally recognized expert on environmental sustainability, social responsibility, and sustainable agriculture, Sandra Taylor specializes in sustainability in food and beverage and consumer products companies. Taylor spent many years as a U.S. diplomat and as an executive with global corporations, where she directed Corporate Responsibility strategies and programs. Currently, she is CEO of Sustainable Business International LLC, a consulting business that assists companies at various stages of environmental and corporate social responsibility (CSR) practice.
Taylor's unique blend of talents and leadership experience include legal training, corporate executive roles, marketing, and international commercial project design. She is a public speaker on wine for business audiences; a wine educator; and founder of Fine Wine Divas of Washington, D.C., an adventure in learning for women wine enthusiasts who attend monthly sessions to learn about wine regions, origins, sustainable growing practices, and how to identify and express their tastes and sensations in fine wine.
She is also a writer and a published author. She has written articles about supply chain management, marketing sustainability, and motivations for environmental and social responsibility in wine value chains. Her first book, The Business of Sustainable Wine: How to Build Brand Equity in a 21st Century Wine Industry, was released in July 2017.
The Business of Sustainable Wine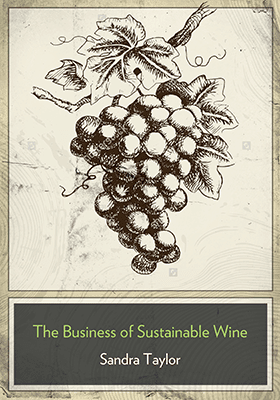 Modern agriculture is the largest single contributor to global greenhouse gas production, deforestation, and water consumption. Biodiversity, climate change, energy, soil degradation, and water scarcity are critical issues. Consumers are increasingly and justifiably concerned about where their food and beverages come from and whether they are produced in a responsible way, often without an understanding of how to determine the provenance of the products they consume. Wine is no exception.
The Business of Sustainable Wine offers a new view of how the industry can be an important actor in sustainable agriculture, and provides a unique insight for the consumer on what to look for on supermarket shelves, by analyzing sustainability trends in wine regions around the world. Drawing on case studies from a multitude of commodity industries, consumer products and consumer packaged goods, Taylor gives producers the tools to integrate sustainability into their winegrowing, branding, and marketing; and retailers' procurement managers will learn how to assess sustainable attributes of wines on offer. Like fair trade cocoa and shade grown coffee, wine must, sooner or later, meet the powerful demands of social activists and a growing consumer contingent for ethical and organic products.
Learn More
Visit DiscoverSustainableWine.com to learn more about best practices, sustainable vineyards, and Sandra Taylor's wine recommendations.
Buy a copy of the book or share a quick review of it on Amazon.