About six months ago, as my team and I wrapped up the launch week of Julie Guilioni and Bev Kaye's wonderful book, Help Them Grow or Watch Them Go, I got an email from author Steven Snyder.
I quickly did a search on Amazon for his book. When I saw the title and cover, I knew instantly that I wanted to work with him in launching his book, because it's message is an important one for any leader.
You cannot be a leader and not experience challenges and difficulty. Leadership and struggle, Snyder writes, are intertwined.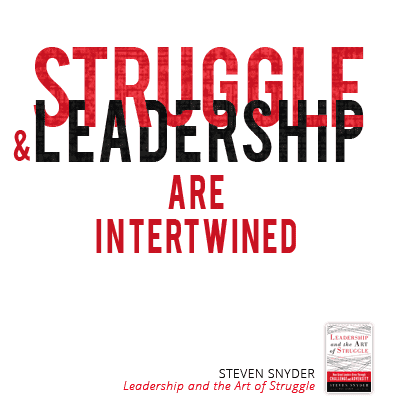 Instead of lamenting or complaining about the struggles we face as leaders, when we embrace struggle, we will be able to learn and grow from each one.
As this launch week begins, I am excited about the members of our Team Buzz Builder community who are sharing their reviews of and reflections about the book. I am also grateful to those who are hosting guest posts.
Here is a list of today's posts so far — I hope you'll check them out!
Mark Miller uses the book as inspiration in his post Storms, Icebergs, and Leadership.
Jesse Stoner is hosting a guest post from Steven, Embrace Struggle as an Art to be Mastered.
Paula Kiger reflects about the book in her review, A Precious Whisper in a Windstorm (A Book Review.)
Randy Gravitt mined the book for thoughtful quotes and shares 7 in his post Leadership and the Art of Struggle.
Uptal Vaishnav is hosting a guest post today from me, Comfort Zone.
This is just the beginning of the buzz for this wonderful book. I look forward to sharing more.
Tell me something! How do you embrace the struggles on your leadership journey?
Buy a copy of Leadership and the Art of Struggle today as a helpful guide on your leadership journey. 
Join us tonight at for a tweetchat with Steven Snyder at 8 pm ET by going to tweetchat.com and using the hashtag #booklaunchchat. Hope to see you there!