Though I don't want to undermine or downplay the serious struggles people face in life, every day has its own everyday struggles.
I struggle out of bed in the morning to get to the treadmill.
I sometimes struggle with my 6 year old because she doesn't want me to brush her hair.
I struggle as I drive past Starbucks. Shall I stop in for my favorite mocha drink — or make a cup of coffee at home.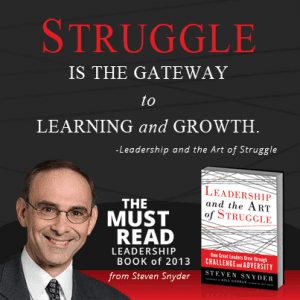 I struggle to answer all the emails in my inbox.
I struggle to maintain focus on my most important priorities.
And then I struggle to maintain the boundaries between work and family life.
Today, I struggled through a phone call with (thankfully quite gracious) clients while my children repeatedly interrupted with whines and tears.
There are struggles, every day. These everyday struggles are not so difficult.
I wonder: does grappling with everyday struggles prepare us for bigger struggles? If we can master the mundane, will we be more likely to tame the tremendous troubles that may come?
Here is what I know: The grace that supports me for in the everyday struggles is sufficient for whatever bigger challenges come my way.
For that, I'm grateful.
Tell me something! What everyday struggles do you face every day? Do you think small challenges prepare us for weightier ones?
This week, we are celebrating #artofstruggle and the launch of Steven Snyder's excellent book. Today is a great day to buy (and share) the book.