When I started working with Becky in 2012, I came on just four days prior to Whitney Johnson launching her book, Dare, Dream, Do. In fact, the first post I wrote for the Weaving Influence blog was in support and celebration of Whitney's book. If I'm being totally honest, I will admit that I had no idea what I was doing.
Two and a half years later, I chuckled to myself as we began the launch week for Hello, My Name Is Awesome and I came across a guest post hosted by Whitney. Every now and again, it's good to take a step back and see how far we have come.
When Whitney launched her book, Weaving Influence consisted of Becky and five contractors, four of whom have since moved on to follow different dreams. Today, we have a team of more than 20 professionals who work together to provide outstanding service for our ever-expanding group of clients. We dared, we dreamed, and we did… and that's pretty AWESOME.
Meet Alexandra Watkins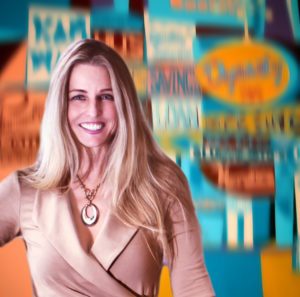 Brand name expert Alexandra Watkins is a leading and outspoken authority on brand names with buzz. A winner of the Make Mine a Million $ Business program sponsored by American Express, she has turned her passion for naming things into a thriving company, Eat My Words.
Frequently quoted in the press, Alexandra's been featured in leading business publications including The Wall Street Journal, Inc., and Entrepreneur. She's a popular speaker at MBA programs and has been a guest presenter at the Stanford Graduate School of Business, SF State, USF School of Management and their alumni association.
As previously mentioned, this week she's been busy with the launch of Hello, My Name Is Awesome, which has already made the Amazon Best-Seller list, and is sure to stay there for a while!
When she's not writing books or naming software, social networking sites, serums, or seafood (among other things), she's probably getting her passport stamped again. At last count she's visited 45+ countries and enjoys sinking her teeth into local delicacies like barbequed squirrel in Tanzania and lobster marinara in Cuba.
Connect with Alexandra Online
Find her on Facebook, Twitter, LinkedIn, and Google+.
Definitely plan on visiting her website for Hello, My Name Is Awesome. Filled with graphics, links to buy the book, a free sample chapter, easy to share tweets and more, if you're short on time but want to help with the promotion, this is your go to spot for quick sharing.
What People Are Saying About the Book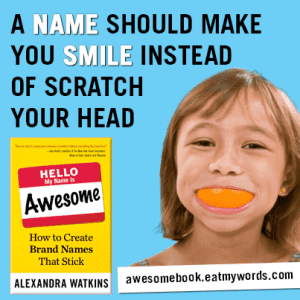 The following bits of praise were pulled from Amazon reviews, written just this week – Buy your copy TODAY!
"This isn't a book just for marketers, brand specialists or advertising professionals. It's a book everyone can enjoy."
"Clear, concise and wildly creative. This gem should be required reading for start ups, execs, students, and know-it-alls."
"Simply brilliant! Wickedly funny. In-the-bank ideas you can use NOW."
"This book nails it. I felt more creative and idea-filled as I read it."
Carrie Koens joined the Weaving Influence team in May 2012 and has held a number of roles, including three years as the Book Launch Director (a title she stepped away from in June 2016 in order to focus on the needs of her growing family), and she currently serves the team as a Writer and Consultant. An INTJ with a penchant for culture, book stores, Parisian cafés, Indian curry, British mystery shows, and her passport, you can find her on Twitter @CGKoens.