Summer is officially here, and my stack of books to read is quickly growing, with no relaxing beach chair in sight! However, before I began collecting leisure books, I had the opportunity to read through the revised and updated edition of The Anatomy of Peace by The Arbinger Institute team.
Although a departure from the kind of books we normally promote, the past few weeks have (sadly) proved why the timing of this book's release is perfect. In a world where anger and hate are acted upon and clear heads do not always prevail, the message of The Anatomy of Peace could not be more timely – or more needed.
If you're interested in gaining a resource that could help you make a difference in your community or your section of the world, then keep reading!
Discover The Arbinger Institute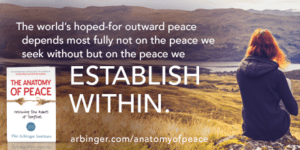 Founded in 1979, The Arbinger Institute has worked with thousands of individuals and organizations to transform performance. Arbinger's public profile was dramatically increased by the global success of its first book, Leadership & Self Deception. The book quickly became a word-of-mouth bestseller.
Arbinger's second international bestseller, The Anatomy Of Peace, demonstrates the power of Arbinger's work in resolving conflict. Arbinger publications are now available in over 30 languages and have sold over 2 million copies.
Arbinger is recognized as a world-leader in improving organizational culture and conflict resolution. Arbinger's clients range from individuals who are seeking help in their lives to many of the largest companies and governmental institutions in the world.
Connect with The Arbinger Institute Online
Find Arbinger on: Facebook, Twitter, and LinkedIn. Learn more about the work of The Arbinger Institute by visiting their website.
Don't Just Read… WATCH!
I took 4.5 minutes to watch this video, and I'm so glad that I did. It's totally worth it… grab your lunch and click "play"!
Support the Launch of The Anatomy of Peace – July 13-17!
Coming up next month, we're participating in the official launch of this important book, The Anatomy of Peace (now available for pre-order on Amazon). Get involved by telling your online communities about it using the resources found HERE.
Every single day we encounter conflict. Whether you're a participant or observer, whether it's among family, friends, or colleagues, conflict surrounds us. While we can't avoid conflict, we can certainly choose how we respond to it. 
On July 13 at 12 pm (ET)/9 am (PT), make plans to join Becky and Jim Farrell, a Managing and Founding Partner of The Arbinger Institute (and co-author of The Anatomy of Peace). During this FREE, 1-hour webinar, you can discover tools that will help you create lasting solutions for the conflicts you face. Register today, and invite a friend!
Don't forget to check out book's NEW website, and start spreading the word as we get ready for the launch. Are you a leader who wants to find resolutions, or a parent looking for peace in your home? Start by pre-ordering The Anatomy of Peace and then join us for an exciting launch next month!
Carrie Koens joined the Weaving Influence team in May 2012 and has held a number of roles, including three years as the Book Launch Director (a title she stepped away from in June 2016 in order to focus on the needs of her growing family), and she currently serves the team as a Writer and Consultant. An INTJ with a penchant for culture, book stores, Parisian cafés, Indian curry, British mystery shows, and her passport, you can find her on Twitter @CGKoens.