Drama. It's not just for opening nights, matinees, and red carpets. If you have ever worked as part of a group, you have undoubtedly encountered drama at one point or another. Nate Regier is an expert at using conflict to create growth and harness potential, rather than allowing conflict to manifest itself into destructive drama.
Having experienced my fair share of drama over the course of my career, I was intrigued to learn about Nate's concept of Compassionate Accountability. Believing that the key to constructive conflict is compassion, Nate helps people seek out and address drama not only in those around us, but also in ourselves (gulp ….).
In his book, Conflict Without Casualties, Nate brings us the collective intelligence of Next Element, the firm he co-founded that serves as international advisor to high-value change agents. This book embodies the lessons of Leading out of Drama,® Next Element's suite of training and certification tools.
"Everyone likes to talk about accountability; few people know how to execute it compassionately." – Nate Regier, Ph.D.
MEET NATE REGIER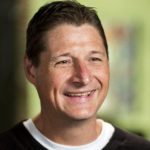 Nate grew up the son of missionary parents in Botswana and Zaire, where he developed his passion for service, love of people, and fascination with the common needs that tie all people together. Having grown up amidst political unrest, poverty, and apartheid has helped form his global perspective. While in Botswana during high school Nate competed on the Botswana Jr. Davis Cup tennis team and achieved a world ranking in doubles.
A native Kansan, Nate completed his undergraduate work at Bethel College in Newton, KS and his PhD in clinical psychology from University of Kansas. He practiced clinical psychology for 11 years where he developed his skills in social-emotional intelligence, group dynamics, mind-body-spirit health, and neuropsychology. In 2008 he joined three other colleagues to form Next Element, where they leveraged their expertise in the social sciences to help leaders in the corporate arena. He specializes in interpersonal and leadership communication, executive assessment and coaching, organizational development, team building and change management.
An international advisor, he is a certified LOD® master trainer, PCM® certifying master trainer and co-developer of Next Element's Leading Out of Drama® training and coaching system. He was the principal driving force behind the design and validation of NEOS,® Next Element's flagship outcomes measurement tool. He co-authored Next Element's first book, Beyond Drama: Transcending Energy Vampires. He publishes a semi-weekly blog, writes for a variety of local and national publications, and is a sought-after keynote speaker.
Read more at Next Element and connect with him on Twitter.
LEARN MORE ABOUT CONFLICT WITHOUT CASUALTIES
Life and work are a constant tug of war when people struggle against each other or with themselves to get what they want, causing relationships and entire systems to unravel. It doesn't have to be that way. The concepts and tools the book shares can turn conflict into a partner for positive change.
In true field guide fashion, it becomes the central reference point for Next Element's work across the world.
If you're considering purchasing Conflict without Casualties to change the dynamic at work, plan to get double your money's worth. Your personal relationships will never look the same. In the book, Nate invites readers to replace the unrealistic, sometimes punishing, even crushing demands they exact on both colleagues and loved ones with openness, resourcefulness and persistence.
Check out the early praise for Conflict Without Casualties…
"Conflict Without Casualties fills a gap by showing leaders at any level how to leverage positive conflict. Practical, insightful, challening, relevant." – Dan Pink
"A must read, this book offers a simple, powerful model for transforming conflict, drama and negative energy into compassionate accountability and a stronger, more united team. Conflict can help a team grow when utilized propertly. This book shows you how." – Jon Gordon
JOIN THE CONVERSATION
Nate will be joining Becky Robinson for an interactive discussion entitled Conflict Isn't the Problem on October 18. To learn how cultures of compassionate accountability can leverage the energy of conflict to create rather than destroy, and realize tremendous new potential, you'll want to participate.
Register here.
SUPPORT THE LAUNCH
Buy the book if you haven't already!
Write about it on your blog and send us the link so we can share it.