I live south of the Mason-Dixon line, and up in the mountains, which means that by the time March rolls around it's anybody's guess what the weather is going to be like from one day to the next.
Last week I was sledding in 8″ of snow (yes, I embraced my inner child), and on Wednesday of this week it was 70 degrees and my windows were open.
Today it's back to cold and rainy slush – which is the perfect time to grab a blanket and start reading my preview copy of the new book by today's featured author…
Meet Cheryl Bachelder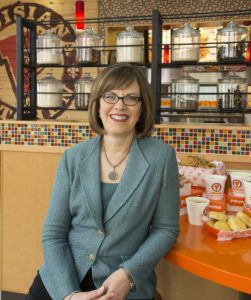 Cheryl Bachelder has served as CEO of Popeyes® Louisiana Kitchen, Inc. since 2007. Ms. Bachelder has led a remarkable turnaround of the company's financial results with a compelling strategic roadmap for growth and an inspiring purpose and set of principles.
With more than 35 years of experience in brand building, operations and public-company management, Cheryl has worked at companies like Yum Brands, Domino's Pizza, RJR Nabisco, The Gillette Company and The Procter & Gamble Company [so yes, she really does know what she's talking about in her new book!].
Cheryl holds a Bachelor of Science degree in Business Administration and a Masters of Business Administration in Finance and Marketing from the Kelley School of Business at Indiana University. She is also the author of Dare to Serve: How to Drive Superior Results By Serving Others (launching March 16 – 20).
Connect with Cheryl Online:
Visit the Dare to Serve book site, follow her on Twitter, and connect on Facebook and LinkedIn.
Let's Talk About Dare to Serve
Dare to Serve shows that servant leadership is challenging and tough minded—a daring path.  Cheryl takes you firsthand through the transformation of Popeyes® and shows how a leader at any level can become a Dare-To-Serve leader.
Dare to Serve is scheduled to be released on March 16 and is currently available for pre-order on Amazon and for pre-order as a Kindle download.
If you've already received a copy to review, don't forget to leave a review on Amazon, Barnes & Noble, or Goodreads during the launch week (March 16 – 20).
On Monday, March 23rd at 12 pm (ET), Cheryl will be joining Becky Robinson for an exclusive (and FREE) 1 hour webinar (registration link | learn more).
If you'd like to learn more about Dare to Serve (or find resources to share with your online communities), you should bookmark the book's website where you can download a sample chapter, grab promotional graphics to share online, and find ways to buy copies of the book in bulk.
Visit the website | Pre-Order the Book | Register for the FREE webinar
You Tell Me: What's the weather like where you live? And what book are you currently reading?
Carrie Koens joined the Weaving Influence team in May 2012 and has held a number of roles, including three years as the Book Launch Director (a title she stepped away from in June 2016 in order to focus on the needs of her growing family), and she currently serves the team as a Writer and Consultant. An INTJ with a penchant for culture, book stores, Parisian cafés, Indian curry, British mystery shows, and her passport, you can find her on Twitter @CGKoens.