In the spring of 2012, I met a woman on Twitter named Becky Robinson. It was a tale of entrepreneur meets soon-to-be out-of-work English-major-turned-pharmacy-tech, and before I knew what was happening, I was in Becky's email account, reaching out to Barnes & Noble store managers about getting table placement for Whitney Johnson's first book, Dare, Dream, Do.
My first "complimentary copy" of a client book was Dare, Dream, Do (read my first WI blog post if you dare!), which launched just 4 days after my first day with the company. When I started working with Weaving Influence, there were four other women contracting with Becky.  About a month after I joined the team, the first of the four moved on, followed by the second one later that year, and the final two in 2013.
Three years later I'm having major déjà vu as we prepare to launch Whitney's second book, and my second co-worker to leave, Margy, is now back with the company! She and her husband recently visited their families in the States (they reside in Israel), and she stopped by the Weaving Influence office in Michigan to say hello. Since the first #witeam photo included Becky, Margy, and Dare, Dream, Do – a little photo déjà vu happened this week as well.
It's a long way to get to the point, but if you want to know more about this author who has come full-circle with our team, I invite you to…
Meet Whitney Johnson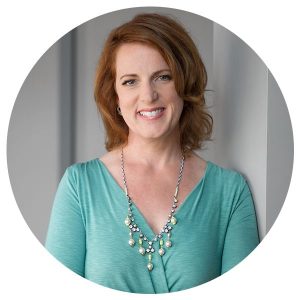 From her official bio…
Whitney Johnson is an investor, speaker, author, and leading thinker on driving innovation through personal disruption. Johnson is a Founder and Managing Director of Springboard Fund, and co-founder of Rose Park Advisors along with Clayton Christensen where they led the seed round for Korea's Coupang, currently valued at $2.2 billion.  Having served as president from 2007-2012, Johnson was involved in fund formation, capital raising, and the development of the fund's strategy.
Whitney is a frequent contributor and writer, including to the Harvard Business Review, as a LinkedINfluencer, and through other channels. She is the author of two books, Dare, Dream, Do (2012), and the forthcoming Disrupt Yourself: Putting the Power of Disruptive Innovation to Work, out October 6, 2015. She is also a prolific speaker and has spoken to audiences of more than 25,000 on her ideas and vision. Johnson is represented by the New Leaf Speakers bureau, along with other thought leaders in innovation like Steve Wozniak.
Johnson has received widespread recognition for her work and ideas and was named one of Fortune's 55 Most Influential Women On Twitter in 2014. She was named a finalist in the Future Thinker Award for Management Thinkers50, as well as fellow at the Tribeca Disruptive Innovation Awards. She co-founded the popular Forty Women Over Forty to Watch (a list which Becky made this year). Johnson and her work have been covered in The Atlantic, BBC, CNN, Fast Company, the Guardian,Harvard Business Review, Wall Street Journal, and more.
Connect with Whitney Online
Find Whitney on: Facebook, Twitter, and LinkedIn. Learn more about Jennifer's work by visiting her website.
Thinkers50
Launched in 2001, the Thinkers50 ranking is now the definitive list of global management thinkers. Help us help Whitney make the 2015 list and vote for her today using the information below!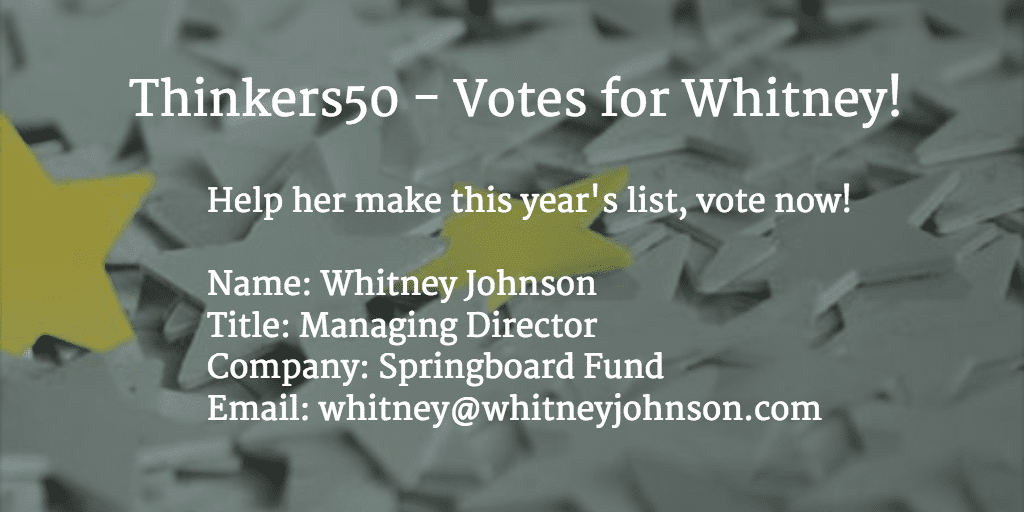 Disrupt Yourself is Launching October 5-9!
If you've been involved in any of our launches, you know that our normal practice is to gear up for a lot of promotion and guest post hosting during the week of a book's release. This time around, we're doing things a little bit differently. Are you ready to join us?
You may have seen the guest posts popping up on some of our Buzz Builders blogs over the last few weeks, including:
Dan Forbes
Martina McGowan
Jane Perdue
If you would like to join this team of Buzz Builders by hosting guest post content from Whitney on your blog, I invite you to fill out our form and you'll be hearing from me between now and October 5th with more information. You can also contact me directly via email – either way, I hope to hear from you soon!
Want to learn more about Disrupt Yourself? Visit disruptyourselfbook.com (and don't forget to check out the pre-order incentives)
Carrie Koens joined the Weaving Influence team in May 2012 and has held a number of roles, including three years as the Book Launch Director (a title she stepped away from in June 2016 in order to focus on the needs of her growing family), and she currently serves the team as a Writer and Consultant. An INTJ with a penchant for culture, book stores, Parisian cafés, Indian curry, British mystery shows, and her passport, you can find her on Twitter @CGKoens.