The majority of our Weaving Influence team reside east of the Mississippi, and if you've been following the weather reports then you will know that most of us have been hit with an Arctic blast of snow and ice. Comfortable companionship was found this week as we compared snow stories.
We could easily go about our days as contractors, exchanging work-related emails and never communicating the personal details, but if we want to build the team, sharing a bit of our private lives with each other is important.
This idea of creating community online has infiltrated our client work as well. Last month I requested a meeting with Joanie Connell, author of Flying without a Helicopter, and suggested we do it "on camera" so that I could share my screen as we worked. As it turned out, it was one of the most fun work calls I've had.
We all laughed when I confessed my "stage fright" as they watched me type in real time, and we grew excited as we came up with ways to support and promote her book launch. Along the same lines, I love writing these Featured on Friday posts because I feel like they're a more relaxed, personal way to introduce you to our team of contractors, authors, and buzz builders. So grab a mug of something warm and get to know today's Feature…
Meet Joanie Connell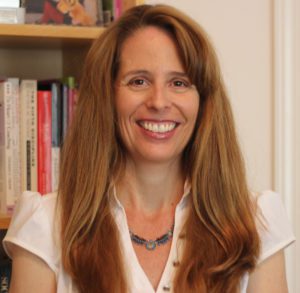 Joanie B. Connell, Ph.D. is the founder of Flexible Work Solutions, a consulting firm that specializes in leadership assessment, development, and retention for all levels–executives, professionals, early career, and youth. She works hand-in-hand with organizations and individuals ranging from the Fortune 100 setting to not-for-profit, government as well as a host of other industries.
Joanie (who pushed back when I called her "Dr. Connell" on our video call) also serves as a university professor. She teaches business and psychology students of all ages at the Rady School of Management at the University of California San Diego, the Marshall Goldsmith School of Management at Alliant International University, and in the Masters in Human Behavior program at National University.
Joanie earned her Ph.D. in Psychology from the University of California, Berkeley, and holds a B.A. in Engineering from Harvard University. In December 2014 she celebrated the publication of her first book, Flying Without A Helicopter: How to Prepare Young People for Work and Life – which we'll be officially launching next week.
Connect with Joanie Online:
Visit the Flying without a Helicopter book site, follow her on Twitter, and connect on Facebook and LinkedIn.
Let's Talk About Flying without a Helicopter
This is the first of two books that Joanie will be writing to the parents (primary audience of Flying without a Helicopter) of the Millennial generation, and to those who now find themselves in a position of managing and leading Millennials in the workplace. Certainly a timely topic as the workforce changes and parents want to help their children start off well on their journey into adulthood.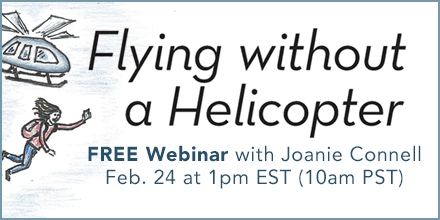 Flying without a Helicopter is scheduled for launch on February 23, and if you've already had an opportunity to read it, I would encourage you to leave a review on Amazon between now and Friday, February 27th. We want to see those numbers rise and to do that, we need your help!
On Tuesday, February 24th at 1 pm (ET), Joanie will be joining Becky Robinson for a FREE 1 hour webinar (registration link | learn more).
If you'd like to learn more about Flying without a Helicopter (or find resources to share with your online communities), I invite you to visit the book's website where you can download a sample chapter, order in bulk through 800ceoread, and see what others are saying about Joanie's important book.
My favorite endorsement of the book comes from Alexandra Watkins (author of Hello My Name Is Awesome)…
"This book should be required reading for any parent who wants to 'help' their child in the workplace. I will be sending it to the dad who contacted me to set up an interview for his Ivy-league graduate son."
Visit the website | Order the book | Register for the FREE webinar
You Tell Me: If you would be interested in writing a review of Flying without a Helicopter in exchange for a book – email me!
Carrie Koens joined the Weaving Influence team in May 2012 and has held a number of roles, including three years as the Book Launch Director (a title she stepped away from in June 2016 in order to focus on the needs of her growing family), and she currently serves the team as a Writer and Consultant. An INTJ with a penchant for culture, book stores, Parisian cafés, Indian curry, British mystery shows, and her passport, you can find her on Twitter @CGKoens.